Hi everyone,
VLCC products need no introduction on  my blog as I have tried and reviewed so many of them for you all here. Some of them have worked really well for me while some may have not suited my skin type but overall they are decent and work well for the price. Since the monsoons have started we have been home bound but now that the sky is become clear we have started venturing out. Since I work from home only I liked how the VLCC Skin Hydrating Sun Screen Cream - SPF 15 PA+ worked for my oily to combination skin.. Read on to know more about this product....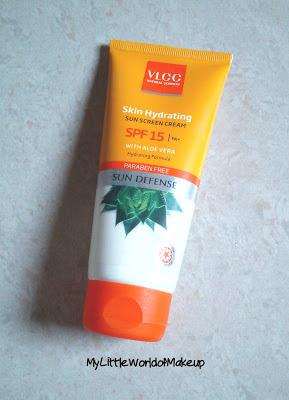 Price: Rs.200/-  for 100g Available online with discount on Flipkart 
Ingredients:
Aqua, Paraffinum Liquidum, Octyl Methoxy Cinnamate, Octyl Salicylate, Glycerin, Glyceryl Monostearate, Cetearyl Alcohol/ Ceteareth-20, Stearic Acid, Octyl Hydroxy Stearate, Propylene Glycol, Aloe barbedensis Leaf Extract, Dimethicone, Olive Oil, Trehalose, Vitamin E, Octocrylene, Vitamin A, Triethanolamine, Acrylates/ C10-30 Alkyl Acrylate Crosspolymer, Polysorbate-80, Allantoin, Avobenzone, Benzophenone-3, Gellan Gum, Daucus carota sativa (Carrot) Seed Extract, Mentha piperita (Mint) Leaf Extract, BHT, Mesua ferrea (Nagkesar) Extract, Citrullus lanatus (Watermelon) Extract, Withania somnifera (Ashwagandha) Extract, S o d i u m A c r y l a t e s / b e h e n e t h -2 5 M e t h a c r y l a t e Crosspolymer, Hydrogenated Polydecene, Lauryl Glucoside, Parfum, 2-Phenoxy Ethanol, Triethylene Glycol Disodium EDTA.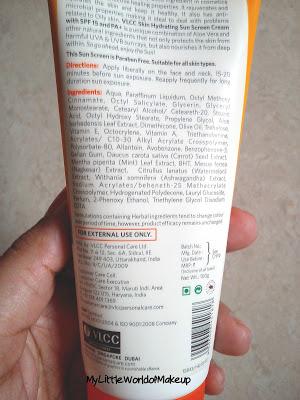 Product Description:
Aloe vera is one of the widely used ingredient in cosmetics because of its effective healing properties. It rejuvenates and hydrates the skin and keep it healthy. It also has antimicrobial properties making it ideal to deal with problems related to Oily skin. VLCC Skin Hydrating Sun Screen Cream with SPF 15 and PA+ is a unique combination of Aloe Vera and other natural ingredients that not only protects the skin from harmful UVA & UVB sun rays, but also nourishes it from deep within. So go ahead, enjoy the Sun!
This Sun Screen is Paraben Free. Suitable for all skin types.
How to use:
Apply liberally on the face and neck, 15-20 minutes before sun exposure. Reapply frequently for long duration sun exposure.
Packaging:
The sunscreen comes in a yellow, white and orange opaque tube. All the information is printed at the back of the tube. It has a flip cap and is travel friendly.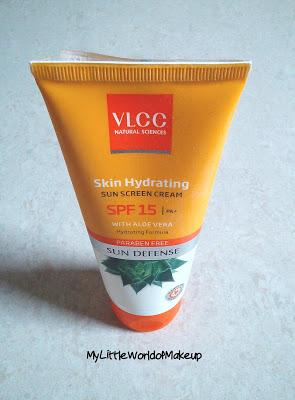 If you have good knowledge of skin care you would know how important it is to use sunscreen on a daily basis even when you are at home.Yes you heard that right!! The sun rays are harmful to our skin so is the light which our phones, computer screens and lights emit and hence it is advisable to wear sunscreen also because even if the weather is cloudy it does emit UVA and UVB rays.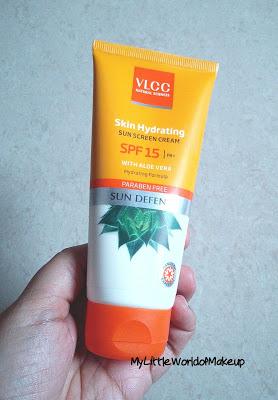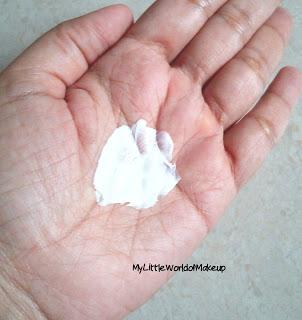 Coming to the product the sunscreen is white in color and not too matte neither creamy in texture. I love the smell and it does not bother the nose on application.If you have extremely oily skin this may or may not work for you in my opinion.Apart from that it should work for everyone. It gives me enough protection as currently I am at home but if I have a mobile life the SPF 15 PA+ might not be enough for me. It is paraben free which I like and my skin being oily it stayed put for 4 hours after which I have had to use a tissue/blotting paper or powder my face. The ingredients are natural and also the product is inexpensive. I would recommend this product based on my experience.
The Good:Easily availableInexpensiveHydrates the skinLight weight formulaSmells niceParaben freeHas SPF 15 PA+ protectionContains goodness of aloe veraTravel friendly packagingThe not so Good:SPF 15 may or may not work for you(I am ok with it)May or may not work for oily skin womenRating: 4.2/5VLCC Skin Hydrating Sun Screen Cream - SPF 15 PA+ worked well for my oily to combination skin. It hydrated and moisturized my skin giving sun protection as well. If you work indoors this sunscreen will work for you. I do recommend this product.I hope this post was informative and useful to everyone. Have you  tried VLCC Skin Hydrating Sun Screen Cream - SPF 15 PA+  before?? Do let me know in the comments section.Until next time.. Take care xoxo

P.S: PR Sample**Unbiased review