Hello everyone,
If you follow my blog and its updates you would know that I have featured many reviews from the brand VLCC. You can check all those reviews HERE. Most of the products from this brand have worked well for me and my skin. So while we are so much worried about our skin care when it comes to face we are least bothered about our hands and legs and they are often the most neglected part of our human body. I rarely visit salons/parlors to get services like these done due to lack of time but would not mind pampering myself with products which deliver good results. So I finally got my hands on the VLCC Pedicure - Manicure Hand & Foot Care Kit and I am here to tell you more about it and my experience of using it.Read my review to know more...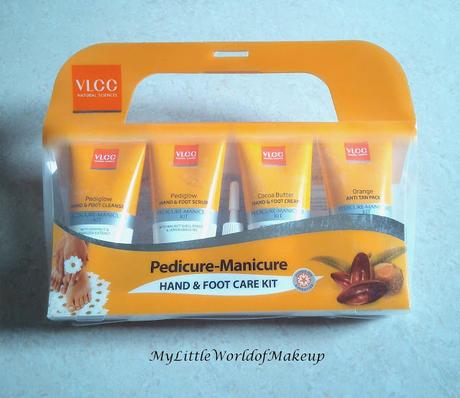 Price of the kit: Rs.480/- contains 5 products
Shelf life: 3 years
About the kit by the brand:
The Pedicure Manicure Hand & Foot Care Kit is designed to help you get beautiful, healthy tips & toes. This kit helps maintain healthy nails, cuticles and supple skin on hands & feet. A Combination of unique products enriched with goodness of natural ingredients. It cleans, soothes, lightens and brightens the skin on hands & feet.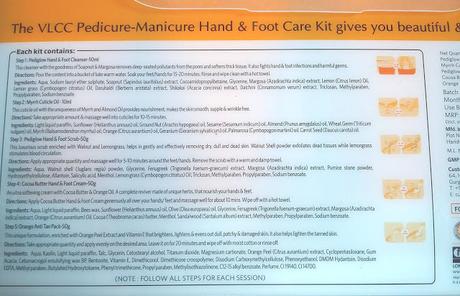 So let me take you through its contents and how to use each of the elements:Step 1:Pediglow Hand & Foot Cleanser - 50 mlYou need to pour the content into a bucket of luke warm water. You can soak your hand/feet for 15 - 20 minutes. Rinse and wipe with a clean towelIt contains goodness of Soapnut & Margosa which removes deep seated pollutants from the pores and softens thick tissue.It also fights against foot infections & harmful germs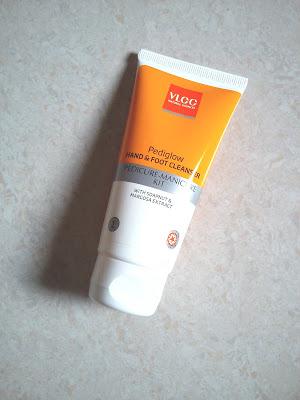 Step 2:Myrrhh Cuticle Oil - 10 mlTake appropriate amount of cuticle oil and message well into cuticles for 10 to 15 minsWith the uniqueness of Myrrh & Almond Oil it provides nourishment  & makes skin smooth, supple & wrinkle free.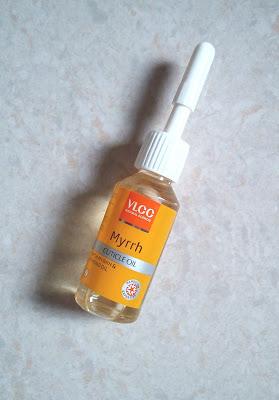 Step 3: Pediglow Hand & Foot Scrub - 50gApply appropriate quantity over hand/feet and message well for 5 to 10 minutes. Wipe away with warm and damp towelThe luxurious scrub is enriched with Walnut and Lemongrass & helps in gently and effectively removing dry, dull and dead skin. Walnut Shell Powder exfoliates dead tissues & lemongrass stimulates blood circulation.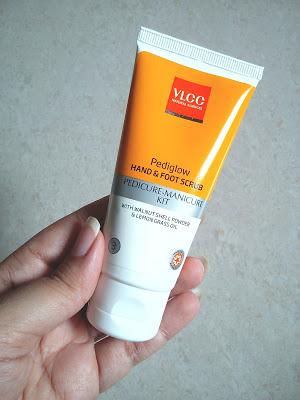 Step 4: Cocoa Butter Hand & Foot Cream - 50gApply generously over your hand and feet and message for 10 mins. Wipe off with hot towel.An ultra softening cream with Cocoa Butter & Orange Oil.A complete reviver made of unique herbs that nourish your hands and feet.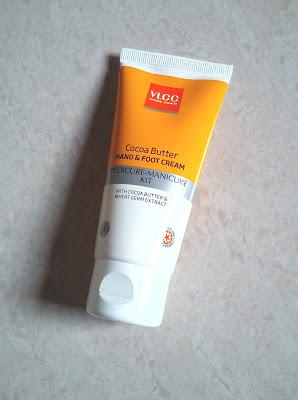 Step 5: Orange Anti Tan Pack- 50gApply the contents evenly as a pack on the desired area. Leave it on for 20 minutes and then wipe away with moist cottonEnriched with Orange Peel extract & Vitamin E that brightens, lightens and evens out dull, patchy & damaged skin. It lightens tanned skin.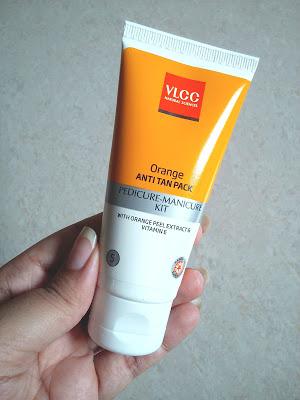 My overall thoughts & experience:All the above mentioned products are ideal for use for men as well as women. It is perfect for gifting someone too. Each product has its own function as serves its purpose well. The difference is clearly visible on the hands/feet post use.For 480/- bucks this kit is worth a buy as it will last you for many uses. Weekends is the ideal time to pamper your hands and legs.As I do wear open footwear I see myself using it more for pedicures. I do recommend this kit to everyone especially those who do not have time to visit the salon.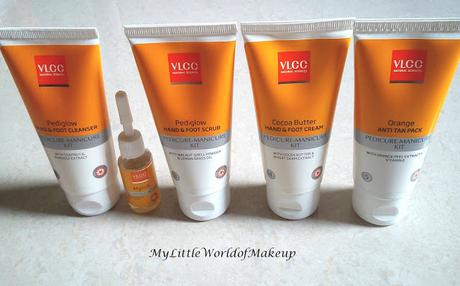 My rating of the kit :4.5/5So what you think of VLCC Pedicure - Manicure Hand & Foot Care Kit  ??Would you buy it or have you tried it??Do let me know in the comments section. Thank you for taking the time to read this post. Hope you found it useful and informative.Until next time.. Take care xoxo

P.S: PR Sample**