I have tried every product from the VLCC anti tan range, the anti tan face wash which I have reviewed Here, the anti tan scrub which I'll be reviewing today and the VLCC anti tan face pack which I'll be soon reviewing and among all the products from the anti tan range I like this scrub better because I love the mini capsules in it that reminds me of my childhood candy (poppins).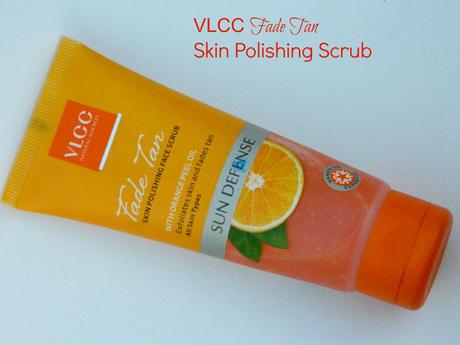 Price: Rs.135 for 70 g
Shelf Life: 3 years Product Description:
Over exposure to harmful UVA & UVB rays of the sun is responsible for skin darkening & ageing.
After a glorious day in the sun this effective scrub with deep cleansing & purifying action, rejuvenates skin, post sun exposure. Enriched with orange peel oil & lemon peel oil, it effectively washes away sun tan while the unique scrubbing granules exfoliate dead skin cells & superficial white & blackheads.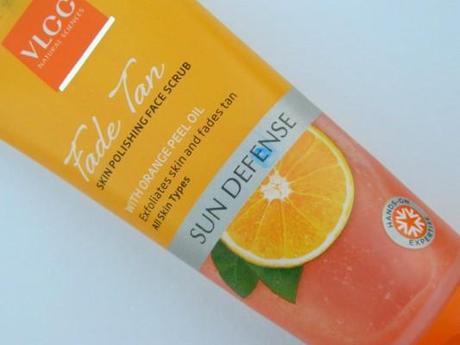 Directions:
Gently massage with fingertips on wet face and neck, concentrating on nose, forehead and chin. Rinse thoroughly. Avoid contact with eyes.
Ingredients: Check in the pic below.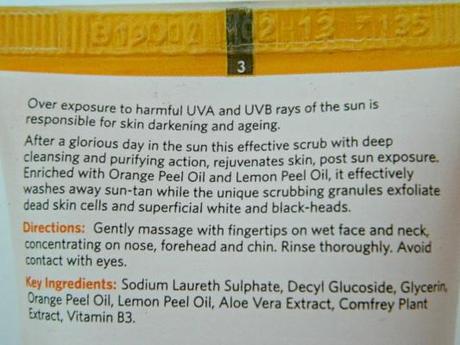 My Experience with VLCC Fade Tan Skin Polishing Face Scrub:
VLCC Fade Tan Skin Polishing Face Scrub comes in the same packaging as the anti tan face wash in an orange-colored tube with a flip open cap. The packaging is sturdy and travel friendly and it can be carried anywhere without fearing of the spillage of the product. The consistency of this scrub is gel like and it's slightly transparent orangish in color with mini orange granules and yellow mini capsules. Both the smell and the yellow granules reminds me of poppins

it smells very much like the childhood candy everyone must have eaten at least once in their life. The capsules feels like they are minute pieces taken from poppins but of course they are not that, must be something else but I enjoy using this scrub because of the fun miranda like smell and poppins like granules.

The orange mini granules are a bit harsh so you have to be careful not to scrub your face harshly and the yellow mini capsules does not crush or melts easily, they kind of slip everywhere not doing anything in the scrubbing part but I exert some pressure to crush them then they feel like scrubbing granules or else they do nothing in scrubbing the skin, I think they have been used for fun.

 If I use this scrub on wet face, I don't feel that I'm using a scrub, it feels almost like a face wash and foams up too much which does not let the granules do their work so I make sure that my skin is slightly damp and not soaking wet when I'm using this scrub or else it feels a bit grity. I would also suggest you to use this scrub 1-2 minutes after wetting your face as that way it would work good as a scrub and not as a face wash.
Coming to the after effects, I feel that my skin is squeaky clean, fresh and much brighter though it feels dry because of which I have to immediately moisturize my face after using this scrub. As far as the tan is concerned, I think it does help in removing tan to some extent but may not be able to remove old tan or do any good to skin that is badly tanned.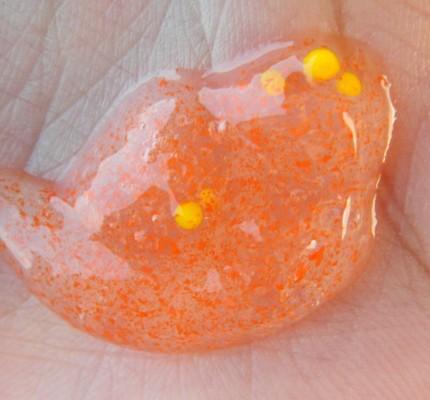 Pros of VLCC Fade Tan Skin Polishing Face Scrub:
Brightens the skin.
Affordable.
Easily available.
Refreshing smell.
Travel friendly packaging.
Skin feels fresh and clean after using this.
Cons of VLCC Fade Tan Skin Polishing Face Scrub:
Skin feels dry and stretchy so moisturization is a must after using this.
Granules can be harsh sometimes.
Foams up a lot and does not work as a scrub if used on excessively wet face.
Yellow mini granules are of no use except for fun

to make it look like poppins.
Full Ingredient list is missing.
BML Rating: 3.5/5