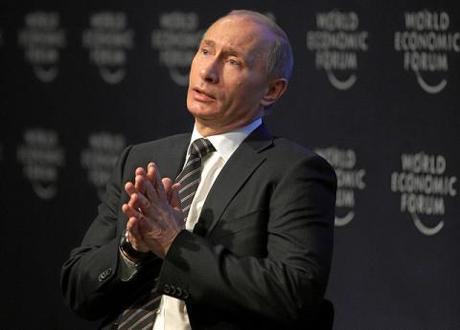 Putin: Looking vulnerable? Photo credit: World Economic Forum, http://flic.kr/p/6jegY6
Vladimir Putin's United Russia is heading for another win in the Russian parliamentary elections – that's the good news. The bad news is that many commentators see this as a hollow victory for the prime minister, as exit polls suggest the party is set to lose its majority in the Duma. The results come after weeks of polls showing a drop in Putin's personal popularity. So why are voters turning away from United Russia – and what does this mean for Putin's planned return to the Russian presidency next year?
Corruption. There have been widespread reports of election fraud, including claims of invisible ink used in Moscow polling booths and pre-filled ballot papers. But according to Ingo Mannteufel at Deutsche Welle, these tactics were let slide only while Putin's popularity was at an all-time high:  "Elections were designed to simply rubber stamp Putin's leadership or the parties and politicians that enjoyed his seal of approval. As a consequence, a clear majority of Russians simply accepted fraud that benefited United Russia." Now, however, Putin's popularity is on the wane and anger at Russia's political system is growing, said Mannteufel. The question is, will Putin continue to use the tactics of manipulation during his 2012 presidential campaign or will he resort to repression?
Russian PM Vladimir Putin described the election result as "optimal" and said the votes "really reflect the situation in the country", according to Russian news agency RIA Novosti.
Is Putin vulnerable? The election results show that Putin is vulnerable to a "mood change" among Russians, said Guy Faulconbridge at Reuters, and vulnerability does not sit well with the prime minister's macho man image. "Though Putin remains Russia's most popular politician, the disenchantment exposed by the election bodes ill for the long term stability of a political system crafted around his personal popularity and patronage," wrote Faulconbridge, citing anonymous Russian business and political sources.
Putin fatigue. A Guardian editorial argued that Putin's decision to run for president again is largely to blame for his loss of popularity: "Even those who welcomed the leadership he provided to stabilise Russia in his first two terms of president are growing weary at the prospect of another two terms." In order to save himself, The Guardian suggested, Putin may end up turning on his own party – this could be the end of United Russia.
Lack of alternative. The larger problem is that there is currently no credible alternative to Putin, argued a Financial Times editorial, which means there is a "dangerous vacuum" in Russian politics: "Mr Putin's first priority, assuming his safe return to the presidency, should be political reforms to allow genuine competition. Otherwise, Russians may yet do it for him."
Putin will be president. Putin will regain the Russian presidency in March 2012, argued Shaun Walker in The Independent, even though the political atmosphere in Russia is certainly different after the parliamentary election. Walker said that the mood among voters has now become "apathy with tacit disapproval" and that it is unclear whether this will ever mutate into large-scale discontent.
Medvedev in trouble. "Regardless of the final results for United Russia, which he led in Sunday's elections, President Dmitry Medvedev needs to think hard about his place in Russian history," said Vladimir Frolov in The Moscow Times. Frolov argued that Medvedev's decision to step down as president to allow Putin to return amounted to treating the Russian presidency "like a piece of furniture", and that he should think about his legacy – ideally, by amending the constitution to limit the presidency to two terms for life.