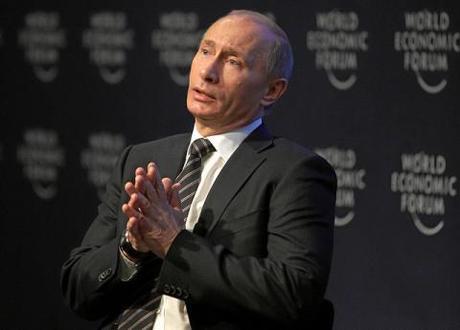 Russian PM Vladimir Putin. Photo credit: World Economic Forum, http://flic.kr/p/6jegY6
When most people go scuba diving, they come back with tedious stories and the odd jellyfish sting. Not Russian Prime Minister Vladimir Putin: when Putin goes diving, he comes back with treasure. Recent footage shows the prime minister uncovering two sixth-century urns in the Black Sea. There has been some suggestion that Putin's "action man" exploits are merely a ploy to win over voters; the Russian presidential elections are due to take place in March 2012 and Putin is expected to run. But presumably such naysayers are just girly lady-men, jealous of Putin's rippling physique and steely gaze. Putin, you see, is a real man, and he is not afraid to show it.

Man shoot whale. In 2010, Putin joined a group of scientists as they sought to collect samples from endangered gray whales on the eastern coast of Russia. Not content with merely observing their work, the Russian PM took up a crossbow and shot a whale with darts.
Man shoot tiger. Putin loves tigers; but not so much that he isn't prepared to shoot them down. During a trip to Siberia, Putin used tranquiliser darts to down an escaped tiger that was apparently heading straight for a Russian TV crew. According to Reuters, he then helped to measure the tiger's teeth; possibly comparing them unfavourably with his own.
Man hit things. Crossbows and tranquiliser guns are all very well, but every action man knows that the most effective weapons in his arsenal are his two bare hands. Putin has practised judo for years, and even featured in an instruction DVD.
Man fly plane. Smog blanketed Moscow back in 2010 due to devastating fires in the surrounding countryside. Some people – probably girly lady-men – criticised Putin for not reacting quickly enough to the crisis. Of course, Putin could have simply made lots of speeches blaming the emergency services and announcing tough measures. Instead, he jumped in a plane and personally dumped water on the flames.
Man drive car. Jenson Button, Lewis Hamilton and Sebastian Vettel should probably consider quitting Formula One: Putin has been practicing. Ahead of Russia's first F1 race in 2014, Putin jumped in a bright yellow Formula One car and hit the track. According to The Telegraph, he reached speeds of 150 miles per hour.
Man remove top. All this tiger-shooting, whale-tagging and fire-dowsing can make a man rather hot. That's why Putin prefers to be bare-chested when in action mode. The Russian prime minister has been snapped taking his top off while fishing and riding horses. And he appreciates other world leaders who do the same. When Outdoor Life asked Putin about his penchant for partial nudity, he held up the US president as an example: "As recently as last summer, President Barack Obama was bathing in the Pacific Ocean in front of TV and photo cameras, and he was not wearing a tie, to put it mildly." Indeed, such is the power of Putin's bare chest that ordinary Russians have been inspired to remove their tops to persuade him to run for president – "ordinary Russians" in this case meaning "attractive young Russian ladies".
Man sing song. Real men are not afraid to showcase their vocal prowess – just ask Bruce Willis and Russell Crowe. Putin knows this only too well, happily belting out "Blueberry Hill" at a charity gala.