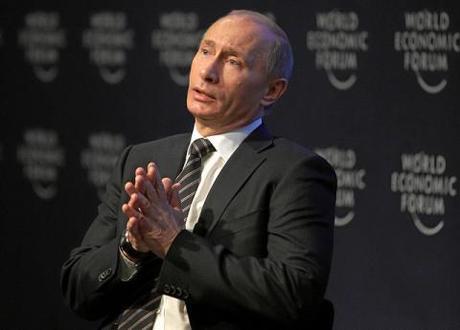 Putin: Under threat? Photo credit: World Economic Forum, http://flic.kr/p/6jegY6
Security forces have foiled an attempt to assassinate Russian Prime Minister Vladimir Putin, according to Russian state-run TV. Channel One reported that a group of plotters was arrested in Ukraine in January, after an explosion in an apartment in Odessa drew police attention. Apparently acting on the orders of Chechen warlord Doku Umarov, the men were allegedly planning a bomb attack on Putin's convoy in Moscow. The strike was set to take place after the March presidential elections, which the Russian PM is set to win, propelling him back to the Russian presidency for a third term. Dmitry Peskov, press secretary to Putin, confirmed the report to Russia's Itar-Tass news agency but offered no further comment.
Putin has "a long history of confrontation with Chechnya, a rebellious Islamic region of southern Russia that tried to break away from Russia in the 1990s", noted Kathy Lally in The Washington Post. Although "mostly pacified" in recent years by Russian-backed President Ramzan Kadyrov, "the region has still been the source of terrorist attacks against Moscow in recent years," said Lally, pointing to the Domodedovo airport blast that left 37 dead in 2011.
See video of special forces foiling the attack on Vladimir Putin, along with footage of the suspects, at Russia's Channel One (Russian language only).
Some commentators have suggested Putin's iron grip on power has slipped in recent months. The Russian PM has faced widespread protests over alleged election fraud in the Duma elections in December 2011, and there have been signs of discontent that Putin is set to return to the presidency in an apparent job swap with current President Dmitry Medvedev. On Sunday, an unauthorised protest saw Russians attempting to form a human chain around the capital: "Tens of thousands of people turned out in Moscow on Sunday wearing white scarves and ribbons, and carrying white balloons and flowers, the color and symbols of the protest movement calling for Putin's removal from power," reported Miriam Elder for The Guardian.
Publicity for Putin? "There is likely to be speculation that news of the plot – apparently exposed several weeks ago – was deliberately released by Kremlin-controlled media just before the presidential vote, in order to bolster one of Mr Putin's favorite electoral tactics: suggesting that foreign-backed wreckers are trying to destabilise the motherland," wrote Tom Parfitt in The Daily Telegraph. According to Parfitt, Channel One made much of the suggestion that alleged ringleader Adam Osmayev spent several years in London.
Writing in The Times (£), Michael Binyon explored the views of the Chechen diaspora on Putin's presidential bid. "The Chechen diaspora is desperate for stability. But will it really vote in the presidential election on March 4 for Mr Putin, the man who in 1999 unleashed the second Russian onslaught on the rebellious region, threatening to hunt down every insurgent 'even in the s*** house'?"
Attempt to destabilise Russia? "Several top Russian parliamentarians agree that the plot against Prime Minister Vladimir Putin, uncovered by Russian and Ukrainian special services, was an attempt to destabilize the situation in Russia in the elections period," reported state-funded Russian news service RT. According to RT, Duma deputy and former FSB head Nikolai Kovalev said the plot was a sign of Putin's importance to Russia; the PM was singled out for assassination "because Russia's enemies saw the prime minister as a guarantor of stability".
The latest polls put Putin ahead of his presidential rivals, reported Reuters. The Russian PM is expected to win 63 – 66 percent of the vote in the first round.
Change is coming – starting with the presidential election. "Abuse of power in Russian politics has been allowed to flourish too long. We need to modernise our economy, build a genuine civil society, end legal nihilism and stamp out corruption," wrote jailed oligarch Mikhail Khodorkovsky on The Guardian's Comment is Free. Putin may be on course to win the Russian presidential elections, said Khodorkovsky, but change is still underway in the country's political system – and this will be particularly evident if Putin is forced into a second-round vote in the elections: "A second round would confirm that the change we all seek is on its way: an evolutionary and not a revolutionary approach can be the way forward."
Russian PM Putin has warned the West against attacks against Iran and Syria, reported The Washington Post: "The West has gotten carried away trying to 'punish' some nations. It reaches out for sanctions or even a military club at the drop of a hat," Putin said.
Three cheers for Putin. "Mr Putin is without doubt a sinister tyrant at the head of a corrupt government. His private life and wealth are a mystery. His personality cult – bare-chested tough-guy, horseman, diver, jet pilot – is creepy and would be laughable if it were not a serious method of keeping power," wrote Peter Hitchens in The Daily Mail. Nevertheless, Hitchens admitted he rather likes the Russian PM – Putin's rule may be oppressive, but it's better than the chaos of the Yeltsin years; and the Russian opposition are not the saints the "Guardian readers and BBC types" make them out to be. What's more, Britain could learn from the Russian PM: "Vladimir Putin, alone of all the major national leaders of our times, refuses to be pushed around by supranational bodies," Hitchens said. "It would be good to see our own government doing the same thing."