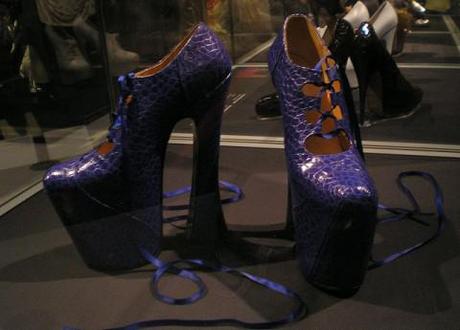 It's fashion, darling: Vivienne Westwood shoes. Photo credit: Hectorthebat, http://flic.kr/p/5qLoz5
People in the UK have "never looked so ugly", according to designer Vivienne Westood. As a host of fashionistas descend on the capital for London Fashion Week, Westwood insisted that the only people in Britain who know how to dress are pensioners:  "Everybody looks like clones and the only people you notice are my age," said the 70-year-old British designer, reported The Daily Mail.
So are young Brits lagging behind their elders in the style stakes?
Older women struggle to be fashionable. The fashion industry has failed older women for the most part, wrote Katharine Whitehorn on The Guardian's Comment is Free, pointing out that it can be an arduous task to find clothes that "conceal the bits that are no longer perfect". Whitehorn argued that the industry is out of touch with what older women actually wear. Meanwhile, The Guardian's Invisible Woman blogger celebrated Westwood's comments and suggested that older women just need more confidence: "The style police do not exist and there is no age limit on looking good. If you want to browse the rails in Topshop or Agent Provocateur then do it."
London Fashion Week celebrity-watch: PM's wife Samantha Cameron turned up at the McQ show, Birdsong's Eddie Redmayne made an appearance at Burberry while -quelle horreur! – models Kate Moss and Yasmin Le Bon turned up in the same dress at Stella McCartney.
Snobbery. "When you strip away the feathers, and get down to the real velour, we are privy to the fact that fashion is intimately linked with money," argued Joe Gammie in The Independent. Gammie pointed out that celebrity fashionistas can afford stylists, make-up artists and hairdressers on call, whereas the general public has to "assemble their ensemble as best they can from Primark, discount stores and the sales". According to Gammie, Westwood's remarks show she is out of touch with the economic reality of modern Britain: "Before you go knocking the regular Joes out on the high street, please spare a thought to those on squeezed incomes, worried about unemployment and job cuts, stuck on the dole, or in debt."
"We are so conformist, nobody is thinking. We are all sucking up stuff, we have been trained to be consumers and we are all consuming far too much," said Dame Vivienne Westwood, reported The Daily Mail.
Britain has a split fashion personality. "Post-war prosperity and celebrities have created a conflicted duality in our souls: we are fascinated by fashion and beauty yet affect to despise them," wrote Lisa Armstrong in The Telegraph. "We ridicule fashion, even while we fund the best fashion schools in the world. We trivialise style while being in thrall to it. We nurture some of the most talented designers but, until recently, drove them abroad for jobs." However, Armstrong argued that branding Britain the worst dressed nation is a bit harsh, as people are starting to dress better and "style is no longer the preserve of the elite".