Vivel introduces Vivel Cell Renew Fortify + Repair Regimen for gorgeous Skin built Cell by  Cell

 New Delhi, December 2013:  In the course of a regular day, the skin is exposed to multiple micro climates. Be it hot showers, air conditioning, heat, humidity, cold and dryness, the environment damages skin from within. Post teens, skin's ability to retain and renew itself decreases. Externally skin starts to appear dry and lifeless. Internally, the skin cell barrier is damaged leading to the breakdown of essential proteins like collagen and to the loss of moisture and suppleness.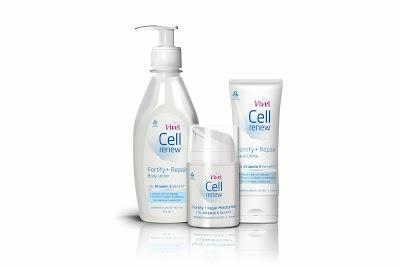 Backed by 5 years of intensive research, Vivel Skin Science introduces a carefully crafted skin care solution that helps renew skin cell by cell. Vivel Cell Renew powered with 10x benefit of active tocopherols performs a dual action of repair and fortification for holistic skin care. The advanced formula not only repairs the damaged skin cell barrier and replenishes lost nutrients but also fortifies skin's natural defences against free radicals and other environmental factors.
Skin care doesn't need to be a complex chore: For a gorgeous, luminous, supple and healthy skin, Vivel Cell Renew offers a regimen of Face moisturizer, Body lotion and Hand Crème.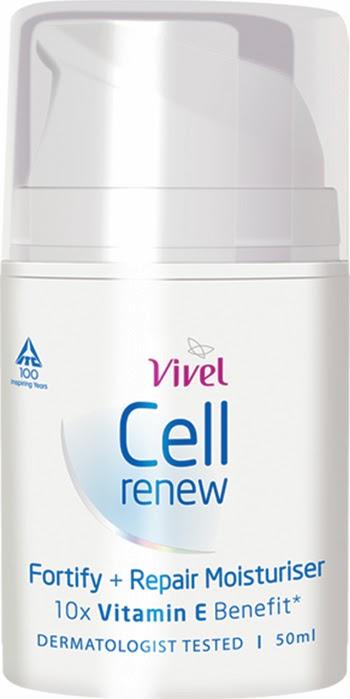 Vivel Cell Renew Fortify + Repair Face Moisturiser: The rich, yet easily absorbed texture of Cell Renew penetrates to a deep cell level without leaving any sticky residue. Its unique formula works deep within the surface to repair the skin's natural barrier and replenish moisture and nutrients. Powered with 10X Vitamin E benefit for exceptional antioxidant protection, it also prevents the breakdown of collagen in the skin's extracellular network to keep skin supple and firm.  Usage: Apply every morning and eveningon thoroughly cleansed face and neck, massaging gently in an outward circular motion

 Vivel Cell Renew Fortify + Repair Body Lotion: This is an ultra rich, deep penetrating body lotion to relieve stresses of daily life. Its super absorbent formula moisturizes and nourishes skin and adds a luxurious sheen to give soft, smooth and healthy skin. Usage: Apply liberally all over the body as often as desired.

 Vivel Cell Renew Fortify + Repair Hand Crème: The skin on your hands is not only different from the skin on your face and body, it also one of the most exposed to environmental aggressions. The new Fortify + Repair Hand Crème from Cell Renew is infused with skin conditioning agents and 10X Vitamin E Benefit to rehydrate the skin on hands and keep them soft and beautiful. Usage: Gently massage into hands and palms after washing your hands or any time they feel dry.
The Vivel Cell Renew range is available in all leading retail outlets in India.
The Price Range of the regimen is as follows:
Product
Size
Pricing
Fortify + Repair Face Moisturizer 50 ml Rs. 349
Fortify + Repair Body Lotion 250 ml Rs. 249
Fortify + Repair Hand Crème 50 ml Rs. 99
So pamper yourself with this unique offering as Vivel promises to take care of your skin like no one else….and assures you many beautiful years of flawless healthy skin!
VN:F [1.9.22_1171]Rate this Product :VN:F [1.9.22_1171]