Good Charlotte Guitarist Sinks Teeth Into The Comics World
IDW Publishing to publish monster mashup by Billy Martin and Brent Allen
Press release
Good Charlotte guitarist Billy Martin can now add another accomplishment to his already impressive résumé. A graphic artist, clothing designer and guitarist, Martin will now turn his considerable talents to comics. IDW Publishing is proud to announce VITRIOL THE HUNTER, an all-new comic book series co-written by Martin and Brent Allen, featuring interior art by Martin.
"This book has traveled everywhere I have on tour over the last few years," Martin said. "I've had a light table and art supplies set up on countless busses and hotel rooms across the world."
Scheduled to launch in early 2013, VITRIOL THE HUNTER is co-created by Martin and Allen, and draws on the folklore and old monster myths prevalent in today's society, twisting them into a macabre-style story reminiscent of classic horror movies crossed with futuristic fantasy. A self-proclaimed vigilante, Vitriol embarks on a mission to protect his homeland from the malicious monsters that have overtaken it, led by a brutal tyrant vampire.
Additionally, Martin is producing a soundtrack inspired by VITRIOL THE HUNTER. Under the name Villain, Martin has been creating remixes, as well as writing and producing music for other artists. This will be his first official release of original music as Villain, showcasing his dynamic mix of electronic music with traditional film score. The special soundtrack for VITRIOL will be available for free download inside the comic.
"Billy and I have done numerous writing projects together and this is definitely our best work to date,"Allen said. "Being from Baltimore, Edgar Allan Poe is a hero of mine, and I can only hope to step foot in part of his shadow on this project. We are both really excited to hear how the readers take to the world we created."
Set in the fictional city of Basilika in 2127, VITRIOL THE HUNTER chronicles our hero's journey as he encounters werewolves, hordes of hellions, and other walking myths. This new horror series is slated to run for six issues.
"The best part of working with Billy over the past several years has been watching him grow as an artist," series editor Denton J. Tipton said. "You could tell he had tremendous talent from the start, but he's really honed his style and absorbed the techniques of graphic storytelling. Taking our time with this series has really paid dividends, but we can't wait for everyone else to see the results!"
VITRIOL THE HUNTER #1 ($3.99, 32 pages, full color) will be available in early 2013.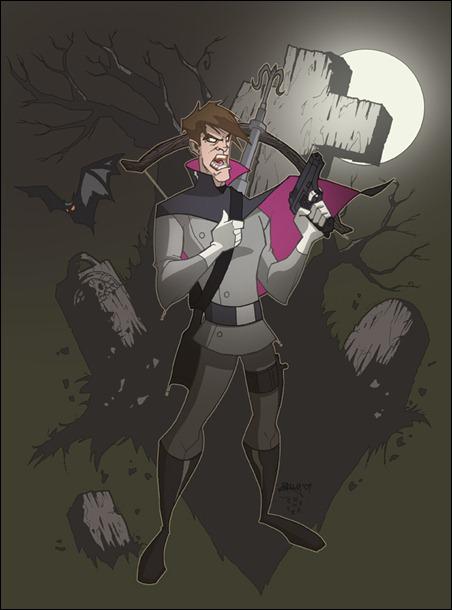 - The Comic Book Critic