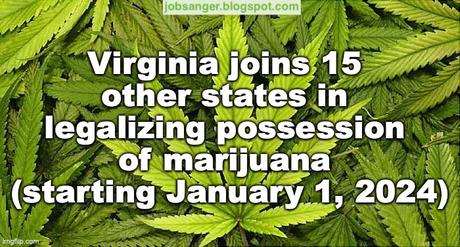 One by one, states are legalizing the possession of recreational marijuana. On Saturday, the Virginia legislature voted to legalize up to one ounce of Marijuana for recreational use. The measure now goes to the governor (who has said he would sign the bill).
This make Virginia the 16th state to legalize the possession of marijuana. The District of Columbia has also legalized it. The measure in Virginia will take effect on January 1, 2024 -- because they want the time to set up legal distribution (to prevent a black market of the gentle drug).
Here is how AP News is covering the story:
Virginia lawmakers gave final approval Saturday to a bill that will legalize marijuana for adult recreational use, but not until 2024, when retail sales of the drug would also begin.
With a compromise bill clearing the House and Senate, Virginia becomes the first Southern state to vote to legalize marijuana, joining 15 other states and the District of Columbia. The legislation now goes to Democratic Gov. Ralph Northam, who supports legalization. . . .
Under the legislation, possession of up to an ounce (28.3 grams) of marijuana will become legal beginning Jan. 1, 2024, at the same time sales will begin and regulations will go into effect to control the marijuana marketplace in Virginia.
Under a provision Senate Democrats insisted on, the legislation will include a reenactment clause that will require a second vote from the General Assembly next year, but only on the regulatory framework and criminal penalties for several offenses, including underage use and public consumption of marijuana. A second vote will not be required on legalization.
The Senate had sought to legalize simple possession this year to immediately end punishments for people with small amounts of marijuana, but House Democrats argued that legalization without a legal market for marijuana could promote the growth of the black market.