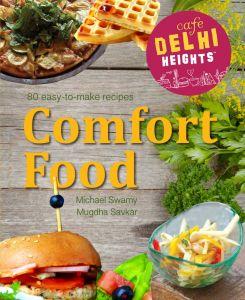 31st May, 2016- On May 31st, Om Books International and Café Delhi Heights launched India's first café inspired cook book ' Comfort Food' by Micheal Swamy and Mughdha Savkar. The book was unveiled by star Cricketer Virat Kohli with much enthusiasm, known for his chutzpah and firehouse passion; he vividly described his immense love for Delhi food and his favorite Jucy Lucy Burger.
The recipes in the book are inspired by a chain of extremely popular restaurants dotted across Delhi, the Cafe Delhi Heights. Beautifully published by Om Books International, this book is a tribute by Vikrant and Sharad Batra to their mother Mrs. Usha Batra for all the sacrifice and hard work they've grown up watching their mother put in, to give them a future. Publisher Ajay Mago, Sanjay Mago, Anchor Siddharth Mishra, Designer Mayyur Girotra, Designer Ritika Malhora, Jatin Kochhar, Chef Nishant Choubey, Shalini Arora kocchar, Anamika Singh added to the evening's charm.
Comfort Food is slated to be the first ever café inspired book in India being brought out by a restaurant chain, based on the food trends, their own offerings and with an added mix of all foods that spell 'comfort'!
Ajay Mago-Publisher, Om Books International
There is a back-story to Comfort Food. As a publisher, I have collected several cookbooks over the years, and have always wanted to get to the bottom of the house specials of well-known food chains in the country. So when I first discussed the idea with Sharad and Vikrant Batra of Café Delhi Heights, they were game. Sharing house secrets is an act of generosity and Comfort Food is full of such acts.
Vikrant Batra & Sharad Batra- Owners, Café Delhi Heights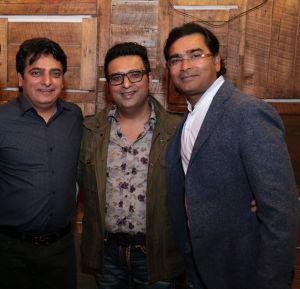 "We have taken the initiative to launch "Comfort Food" so that we take Café Delhi Heights' kitchen to each and every house hold. It is a tribute to mom for all her hard work and guidance which has made Café Delhi Heights what it is today. We sincerely wish that mom's vision of people practicing her recipes in every house hold is achieved through our cook book "Comfort Food" which lists 80 easy-to make recipes."
Micheal Swamy & Mugdha Savkar- Authors
' Through time and ages we see food differently. It is the familiarity that keeps drawing us back to the dishes we love, dishes that take us on a familiar journey of nostalgia. Cafe food is one such instance of comfort and sublimity where we can sit for ages, chat with friends and bond over great food. The coming of age cafes across the metros and small cities provide comfort food and something more.'
"Culinary trends get updated & outdated every few months... the only trend that never goes out of date is COMFORT. Comfort in food is sought after by every single people regardless of age, diet fads, nationality and class. This book celebrates that very comfort."
About the Book
Comfort Food
80 easy to make recipes
By Micheal Swamy and Mugdha Savkar
Price- Rs. 995
Pages- 192
Published by Om Books International
From exploring the spicy flavours of Moroccan food to indulging in Italian culinary treats that go beyond the usual pizzas and pastas; Comfort Food: 80 easy-to-make recipes offers an eclectic mix of traditional and modern cuisine guaranteeing to soothe the evolving Indian palate today. Indians have become more experimental in their choice of appetizers, main-course meals and desserts. This cookbook promises to encourage all food enthusiasts and aspiring chefs to try out the easy-to-make recipes at home for friends and loved ones. With this book in your hand, you are all set to conquer the kitchen like never before. Whip up these finger-licking dishes and surprise your guests at home. With a generous smattering of mouth-watering food shots inside, Comfort Food: 80 easy-to-make recipes assures a gastronomical journey for all.
About Cafe Delhi Heights
"Food fades, content doesn't"
~ Sharad Batra and Vikrant Batra, owners Cafe Delhi Heights
The moment you think 'Café Delhi Heights' what comes to mind is that it truly represents the Delhi spirit - a confluence of cultures, traditions, dialects and tastes. Each of the eight outlets entertains you with their décor, knick-knacks and even board games and books to keep you busy while you wait.
A multi-cuisine restaurant chain offering Italian, American, European, Indian cuisines among a host of others, it is the true spirit of the book, Comfort Food.