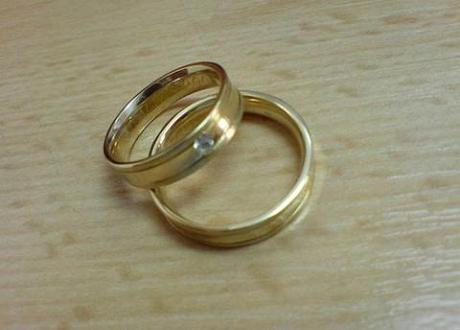 Wedding rings. Photo credit: Goran Ratković
Over the last few years we've seen many a viral video of wild proposals in bizarre places but this video of Isaac asking his girlfriend Amy to marry him is one to top the rest.
Here's how it goes down: Isaac asked his girlfriend to meet him at his parents' house, where she finds his brother there to meet her. He swiftly plonks a pair of headphones on her and sits her down in the boot of a car. So far, so weird. But as the car pulls out of the driveway and down a suburban street, Isaac's friends and family appear to serenade Amy. The troupe of all-singing, all-dancing performers swell to 60-odd. Finally, a black-suited Isaac appears to pop the question. An instant proposal classic.
"I hope my girlfriend doesn't see this," joked BuzzFeed
The video has raced to almost 3.2 million views on YouTube since it was posted on 25 May. Here it is in its full glory: