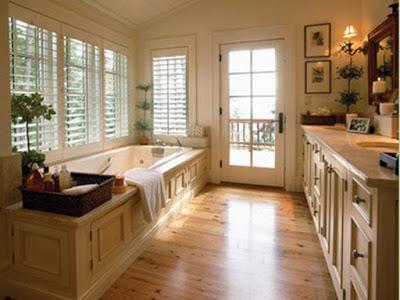 Have you ever dreamed about having wooden floors inside your bathroom, but then laughed at yourself thinking about the impracticality of the idea? Well, who said that you need actual wood for imparting a wood-like texture to the floors of your bathroom or any other place in your home? There is a fantastic alternative that can help you to turn your dream into reality - vinyl flooring.
Vinyl is an ideal substitute for areas where original wood cannot be practically used, such as bathrooms, kitchens, basements, laundry room, or any other place where the primary concern is moisture. Besides that, the material is really cheap and easy to procure. It also comes in a wide range of style and design options that you can pick from. Moreover, there are plenty of firms that offer services for vinyl laying in Perth. All you need to do is conduct some research over the Internet, buy a good quality product, locate a skilled and experienced layer and get the job done. If you are an expert DIYer, you might even be able to install the flooring all by yourself using a few basic tools. But bear in mind that you will have two installation options - click installation and adhesive back, and for areas with presence of moisture, you must go with the latter. This is because the adhesive will prevent seepage under the subfloor effectively and inhibit growth of mold.
There are plenty of benefits that you can reap by having vinyl flooring installed at your home. The obvious one is that it would allow you to have that wooden floor of your dreams without the cost. Secondly, vinyl does not require extensive maintenance, and regular vacuuming or mopping is more than enough to keep it clean. On top of that, the material is slip-resistant which means it can greatly reduce the chances of slipping and falling on spilled water.
However, the perks do not come without a few cons. Vinyl flooring can bend quite easily and therefore, you must avoid dragging heavy appliances or furniture across it. There can also be accidental snags or burns. But that should not worry you much, since there are many putative firms which provide flawless vinyl repairs in Perth. A small amount of repairwork will be just adequate for making your vinyl flooring stand the tests of time for some more years. But you must be careful so as to prevent the vinyl from getting damaged repeatedly.