My Grandmother's Pie
Happy Thanksgiving, my American friends! I wore this outfit to celebrate early with my in-laws, and was reminiscing on Thanksgivings past as I baked pies and took outfit photos.
This pie dish belonged to my grandma, who was around my age in the 1950's. Below, she is on the left at 24 years old in 1949, standing with a friend of her mother's. My grandma and I are not blood related, as she adopted my dad. But I've always felt a strong kinship with her; more so than just a grandmother-granddaughter relationship. We were both born on April 27, and thus share the middle name Elizabeth. I was her first granddaughter to be born, from her oldest son. We shared a love for writing letters, and making house, and she was the kindest woman I knew. It wasn't until after she passed away that I discovered how stylish she was in her youth.
I had never had a style icon until I found these young photos of her!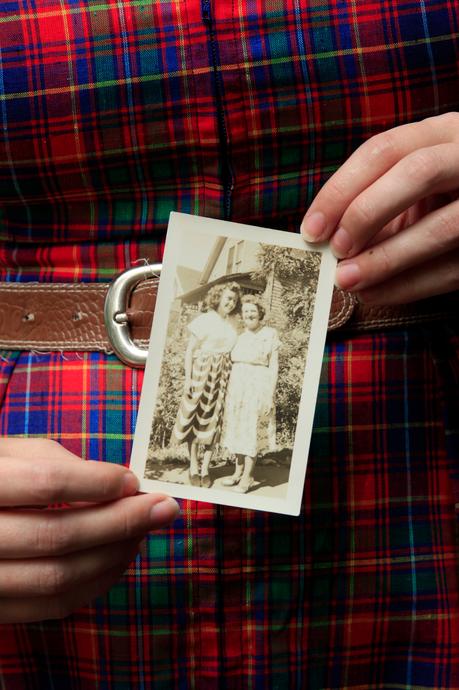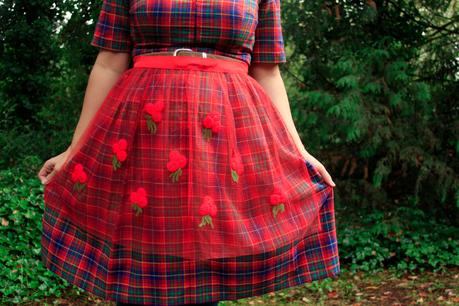 This dress is one of my new-to-me acquisitions. It was originally handmade by a woman in the 1950's, and when I saw it online it was love at first sight. It comes from the shop Retro Red Rocket on Etsy, and I just have to mention what a sweet package this was. Upon opening it, not only did she include my items, but also an extra pair of earrings and a beautiful blue scarf, both of which I will definitely be using soon! I love it when Etsy shop owners do those little extras. Anything from pretty packaging — her mailing envelope was rose-printed — to nice tissue, to fun little items inside. The personal touches make it that much more special.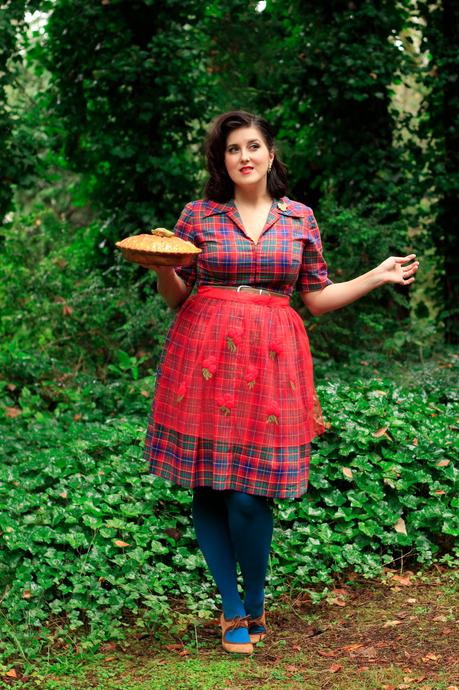 Time To Be Thankful
I really love Thanksgiving; it's such a great time to remember what you're thankful for, and to appreciate what you have that much more. Often in the day to day rush, I forget to stop and just remind myself of what we have. How we are blessed by the people who surround us. How we are taken care of with food on the table and a roof over our heads. How we are able to work solid jobs or stay home to take care of our kids. I forget sometimes, because there are so many things I wish we DID have. We have so much to be thankful for.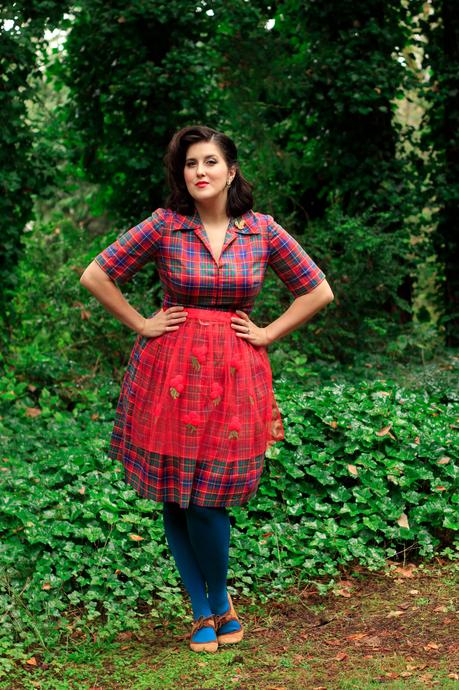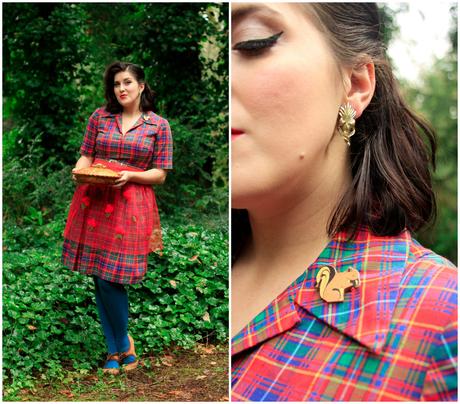 So even though today may turn out to be a bit different from what we had hoped, with family sick and out of town, it's still a wonderful day to be thankful.
I'm thankful for a great landlord to rent from, for this lovely little house we live in, for all of the technology that allows me the friendships I've made from blogging. I'm thankful for future opportunities that are cropping up (that I am so excited for but have to stay mom for now!). I'm thankful for my beautiful little family; my sweet cuddly Evie and silly energetic Asa, and my hardworking husband. I'm thankful to be able to stay at home with my kids, and have my job be motherhood and keeping house.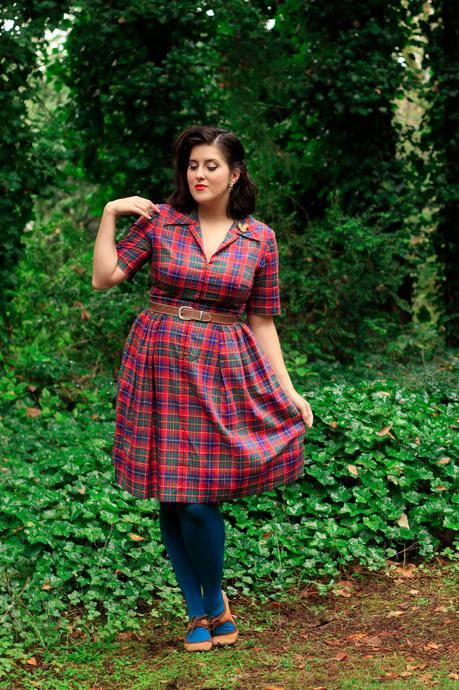 I'm thankful for my extended family and my in laws, for all of our friends who don't care if my house is perfectly clean (ha!), and the community we have of support and friendship and love. I'm even thankful for the gloomy Washington weather, which is rainy and glum more often than not.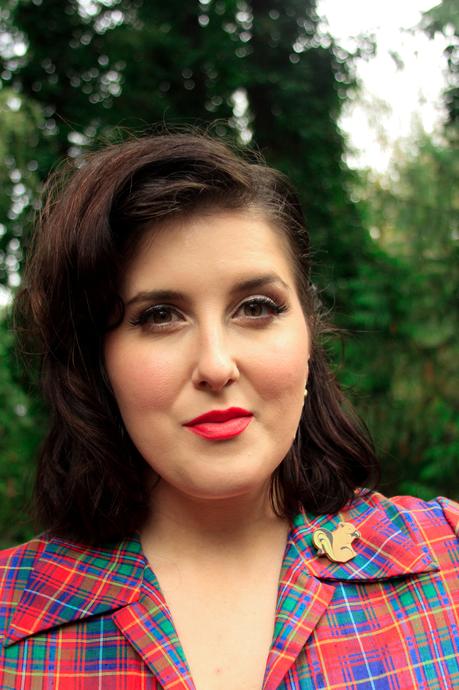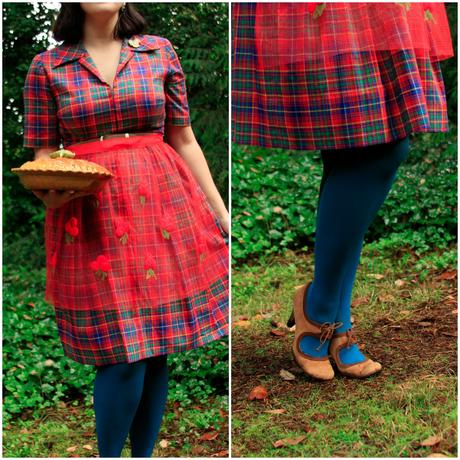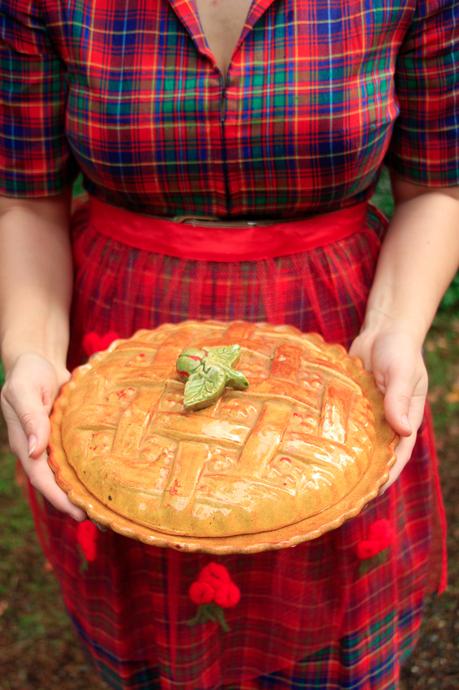 I'm thankful for this blog. For all of you. I have made so many amazing friends through blogging and I cannot express how much love I feel right now. You are all wonderful. I hope you have a fantastic Thanksgiving, if you're celebrating, and just a fantastic day if not.
What are you thankful for?
Dress, Retro Red Rocket on Etsy | shoes and belt, thrifted | apron and earrings, vintage/thrifted | brooch, gift from Hannah | tights, Target | pie pan, vintage, grandma's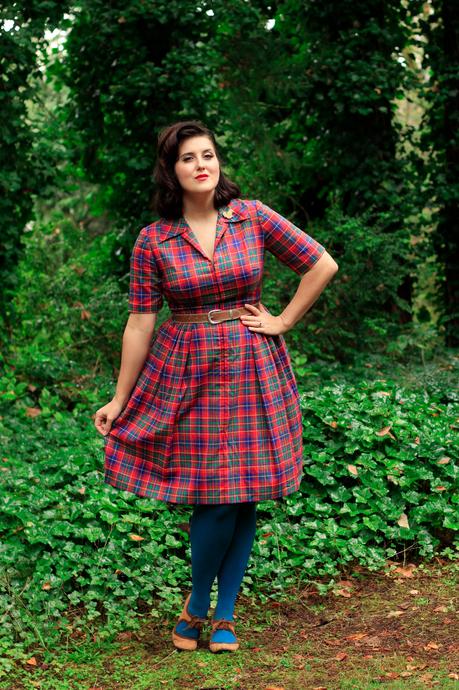 Support my blog with Patreon
Save
Save
Save
Save
Save
Save