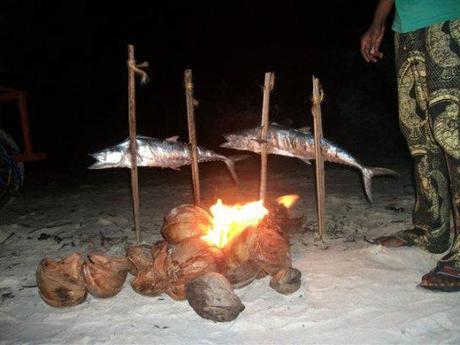 Here we have some volunteers in Tanzania enjoying a fish BBQ on the beach. We were pretty jealous in the office until the sun started to come out. So with some trepidation plans are afoot for a BBQ here at London HQ. We're going to take Vietnam as our culinary inspiration though and so should you with this amazing recipe:
Grilled Fish a la Vietnam

You Need:
* 5lb whole fish
* 9 oz shredded fresh ginger root
* 12 finely chopped shallots
* 4 tsp light soy sauce
* 4 tsp fresh lime juice
* 4 Tbsp oil
* 4 green onions, cut into bite size
* 8 oz roasted peanuts, coarsely chopped
* pepper to taste
* Banana leaf or aluminium foil
Stop chillin' start grillin'
1. Oil the banana leaf or aluminium foil. Place the fish on it.
2. Make three slashes across the fish on both sides.
3. Stuff the fish with the shredded ginger and chopped shallots. Season well with the soy sauce, pepper and lime juice.
4. Wrap the fish up securely in the banana leaf. The fish can be cooked in an oven, over a barbecue or in a grill pan. Allow it to cook until the banana leaves turn brown. I sometimes prefer to leave the fish exposed on the banana leaf while cooking. Drizzle some oil over the fish so that it becomes crunchy and retains its moisture.
5. In a wok or saucepan, fry the chopped onions in 2 Tbsp of oil until they are soft. Covering the sauce pan or wok will cause the onions to soften more quickly.
6. When the fish is cooked, pour the fried onions and chopped peanuts over the fish. Serve with the Nuoc Cham Me, Sour Fruit Platter and Herb Salad Platter.
How about some Nuoc Cham Me sauce with that?
* 1 chopped fresh chilli
* 2 chopped cloves of garlic
* ½ tsp sugar
* 3 Tbsp tamarind pulp
* 1 Tbsp fish sauce
* 1 Tbsp water
Get saucy
1. Bring ½ cup of water to the boil. Take the water off the flame. Soak the tamarind pulp in the hot water for 10 minutes.
2. Mash the chili, garlic and sugar to a paste.
3. Gradually add the tamarind water to the paste until it is to your taste. Do the same with the fish sauce.
4. Serve with your grilled fish.
Loved your fish. Why not check out our South East Asia Adventure Trail? Thailand, Cambodia and Vietnam. That's a lot of really really good food…and also culture, sights, people and other non-delicious related things.