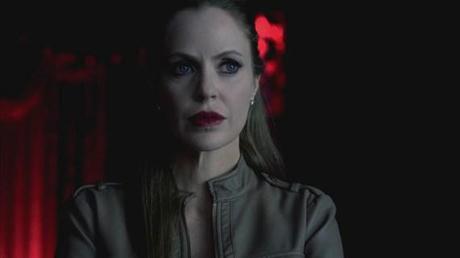 Truebies in Arizona who attended this year's Phoenix Comic Con were fortunate enough to meet none other than Kristin Bauer van Straten (Pamela De Beaufort). As we reported earlier this month, Kristin and her husband Abri van Straten appeared at the convention to sign autographs and do a panel in Kristin's case and Abri performed in the Hyatt's Sundance room on Saturday night.
Yesterday I came across a full set of videos from the panel Kristin did on Saturday afternoon on multipleversesvault.com and of course I just had to post it because I love seeing actors on panels like this discussing things that may not always come up in the press interviews they do. And I know you'll love it too!
So what did Kristin discuss in her panel? While she was very careful not to reveal any spoilers, she did discuss True Blood Season 4. She said that Pam is involved with the witches this year and "is very pissed off."  And while she does feel like Eric (Alexander Skarsgård) is very cute and sweet without his memory, she still wants the old one back. Oh and you know those one liners that Pam is famous for? Kristin revealed that she has one in episode 11 "Soul of Fire" that made everyone in the table read laugh before and after she said the line. Apparently it tops every other line she's had and Kristin wonders if it will make it into the show, it's that remarkable!
Outside of season 4 discussion, Kristin discussed a wide range of topics, ranging from what it's like to act with fangs to the audition process, what kind of music she likes, and how she handles speaking Swedish with Alexander. Enjoy!
Due to the way these videos were originally published online, I posted them to our YouTube account. But all of the credit should go to supernatual66 at multipleversesvault.com for shooting and posting this. Thank you very much!
Sources: Multipleversesvault.com-"Kristin Bauer True Blood Panel"
Youtube.com- Tbfansource
Video Credits: Supernatural66
Image Credit: HBO, Inc.