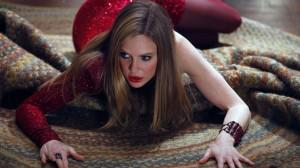 With only 1 episode left in True Blood Season 4, fans are anxiously awaiting the fate of our favorite Bon Temps characters.  Of course with Alan Ball's history we will have more loose ends after the finale, but watching it build to that point is the fun part.  Kristin Bauer van Straten, who plays Eric Northman's second in command Pam on the hit HBO show, spoke recently with Fox & Friends about why she thinks vampires are so appealing, her husband Abri van Straten, and her man hands. 
When asked what she thinks the allure of vampires is, Bauer van Straten says that she think it is the fact that the vampires do not have to worry about every day things like aging, stress, money, etc.  After talking briefly about those tricky fangs, Kristin talks about how she met her husband and it is clear just by hearing her speak how much she loves him.  She then goes on to talk about her 'man hands' episode of Seinfeld.  Enjoy!
Source:  Foxnews.com – Kristin Bauer on Fox & Friends
Photo Credit:  HBO, Inc.