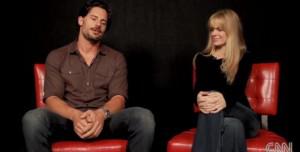 True Blood's Joe Manganiello (Alcide Herveaux) and Kristin Bauer van Straten (Pamela Swynford De Beaufort) stopped by CNN this week to answer fan questions for the CNN iReport, and it's great seeing these two yuck it up with one another. It's obvious how comfortable they are with each other, and it made the Q&A session really fun to watch.
A few highlights include:
One fan asked why is True Blood so popular and Kristin had no qualms handling this one. She talked at length about how the "fun fantastical" world of True Blood and all its characters, as well as the town of Bon Temps itself, are metaphors for what we deal with in everyday life, and people easily relate. There are underlying themes to each episode, the biggest theme being tolerance, and that's what people are drawn to. Oh, that and the fact that the show is "incredibly funny" and "intelligent"!
Another fan asked Joe what direction he would take Alcide in if he could write any story line he wanted. Joe was quick to talk about Alcide jockeying for pack leader, and how he hopes that Alcide has the opportunity to learn that "being a werewolf isn't just a curse". Probably the biggest "aw" moment of the video is when Joe bats his eye lashes and says "I love my character". Following his lead, Kristin reflects on her character and how much she "loves Pam" and the fact that she's starting to admire her alter ego.
The last fan question was for Joe and whether or not we can expect to see some Alcide – Sookie (Anna Paquin) action in season 5. Joe laughed and hemmed and hawed a bit, but wouldn't give anything away. He did mention how he loves seeing that, in addition to there being fans of Team Bill and Team Eric, now there are fans lobbying for Team Alcide.
Check out the Q&A in its entirety below.
Source: CNN iReport – Fun, fantastical World of True Blood
Photo Credit: CNN