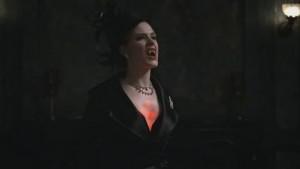 We lost the vampire queen of Louisiana, Sophie-Anne LeClerq, this season on HBO's True Blood but she is not gone completely. Evan Rachel Wood plays an intern in the highly-acclaimed George Clooney-directed film, The Ides of March, which opened in the beginning of October.
Wood stopped by Chelsea Handler's E! show, Chelsea Lately, to talk about her admiration for Justin Bieber and what it felt like to be invited to George Clooney's lake house.
On Justin Bieber:
"This is going to be my legacy, from now on. Forget all the acting. It's just all going to be about Justin Bieber."
On being pulled over by a bike cop:
"There is nothing more embarrassing than that… I was in a car and he was on a bike."
Truebies, check out the video below to see more of Evan Rachel Wood on Chelsea Lately!
Source Credit: Eonline.com - Chelsea Lately: Evan Rachel Wood
Photo Credit: HBO