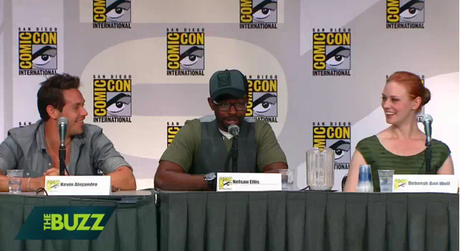 True Blood went to Comic Con 2011 and all kinds of craziness ensued! The Buzz was on hand to capture all of the madness as the cast traveled to one of the biggest events of the year with the help of a police escort. Once there, they signed autographs for hundreds of fans who had waited hours in line and from there it was on to a panel where thousands waited in line and in Ballroom 20 just to see their favorite cast members. The buzz caught various members of the cast amongst the craziness and they shared just how surreal Comic Con was for them. And interspersed with the interviews you can catch glimpses of future and past season 4 episodes. Watch and enjoy!
Source: YouTube.com- "The Buzz: True Blood Season 4- Comic Con (HBO)"
Image and Video Credits: HBO, Inc.