This Monday's episode of How I Met Your Mother has our favorite werewolf Joe Manganiello (Alcide Herveaux) making a guest appearance on the show.  Here is a little bit of what the episode will be about.
Marshall helps out his law-school classmate Brad (Manganiello) with a job interview.  It also looks like Brad has put on some extra weight (don't worry ladies it's just a fake gut).  But that's not the only thing going on that doesn't help his case in getting the job.  Click the photo below for a sneak peak.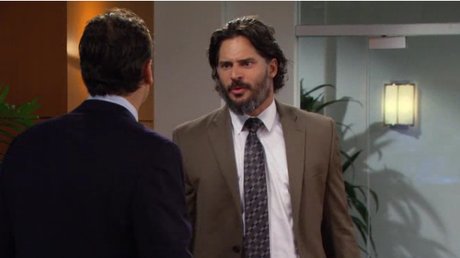 What are your thoughts of his character on this episode?? Are you going to be watching the episode this Monday?  Tell us what you think below.
Source: TVLine.com – "Exclusive How I Met Your Mother Video: Joe Manganiello Chows Down, Screws Up"
Photo Credit: CBS