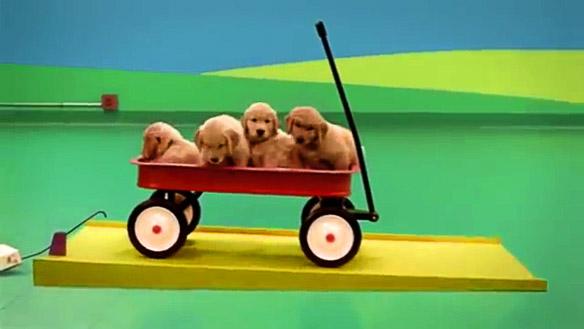 Golden Retriever pups featured in this Dog Rube Goldberg machine commercial | YouTube

Dog commercials have come a long way since the golden age of television back in the 60's and 70's when commercials were a large part of the television viewing experience. Since then, dogs have seen an elevation in status as they are now beyond pets—they are our companions, friends and family. In perhaps the coolest dog commercial ever made, be prepared to see the most elaborate dog advert ever created!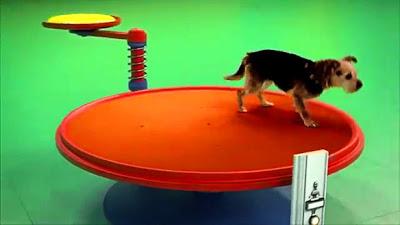 Dog featured on carousel in the Purina Beneful Commercial | YouTube
In the latest online dog commercial released by Purina for their Beneful line of dog food, we see a gadgetry of toys, food tins, dog-propelled carousels and domino-powered dog wagon releases in this Rube Goldberg machine, an over-engineered machine that performs simple tasks in a very complex sequence. The commercial draws your attention from one scene to the next, propelled by the power of the pooch! In what appears to be a commercial shot in one cut, the climatic ending features their tagline "Play. It's Good for You." With over 1.6 million page views, this dog video has gone viral!
COMMERCIAL CREDITS
Client: Purina Beneful
Agency: Deep Focus
Chief Executive Officer: Ian Schafer Executive Creative Director: Ken Kraemer Creative Director: Matt Steinwald Art Director: Scott Jones Copywriter: Micky Treutlein Producer: Sean Fleming Account Director: Jamie Julian
Production Company: Quiet Man
Director: Johnie Semerad
Music: Yessian
VIDEO: The highly-complex dog commercial with a simple message