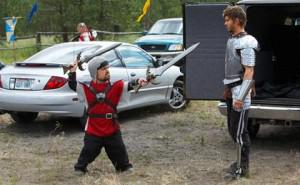 Aussie True Blood star, Ryan Kwanten (who plays Jason Stackhouse), is starting to promote his new movie, Knights of Badassdom. The first trailer was shown at this year's Comic-Con, to rave reviews.
Besides the fabulous Ryan Kwanten, the cast includes: Firefly's Summer Glau, Community's Danny Pudi and Game of Thrones' Peter Dinklage. Fans of LARP (Live Action Role Playing) will surely find this movie appealing.
Kwanten plays the role of Joe, who after being dumped by his girlfriend, dons a foam sword and gets stuck into some LARPing.  Mistakenly, a spell is cast over a pentagram, which unleashes Beth, the succubus from hell!
It all goes to hell fairly quickly after that. Ryan says:
"Blood and guts start appearing randomly, and he's forced to pick up the pieces."
The film was shot in Spokane, Washington, last summer. The stars actually had to learn how to LARP.  Peter Dinklage turned out to be a natural at it:
"They said, 'Go spar!' Peter Dinklage smoked every single cast member in one fell swoop. It was amazing. He was like, 'Boop. Boop. Boop. Narnia.' And he just walked off. The Dinklage conquered us all."
Said director, Joe Lynch.
Watch the trailer, and make sure to keep an eye out for this action-packed, hilarious spatter-fest:
Sources: USA Today – These 'Knights' bring foam swords into fashion
SummerGlauNet on YouTube  - Knights of Badassdom Trailer
(Photo Credit: USA Today/Peter Moroz)