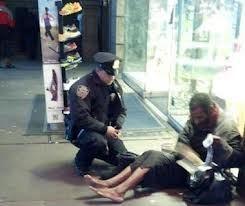 On November 14th, Jennifer Foster visited Time Square with her husband.  She is the manager of the Pinal County Sheriff's public safety communications center.  She spotted a shoeless man asking for change.  Foster then said: "Right when I was about to approach, one of your (NYPD) officers came up behind him."  The officer said: "I have these size 12 boots for you, they are all-weather. Let's put them on and take care of you."  The officer then squatted down on the ground and proceeded to put socks and the new boots on the homeless man. 
Foster said the officer wasn't aware that she was taking a photo of him.  She said that in the 17 years in law enforcement she has never been so impressed.  The officer has since been identified as Lawrence DePrimo.  The 25-year-old from Long Island lives with his parents.  DePrimo told the local paper: "It was freezing out and you could see the blisters on the man's feet.  I had two pairs of socks and I was still cold."  After learning the man wore size 12 the officer went into a Sketchers shoes store and bought the all-weather boots for $75.  The man was so elated, as if he'd won the lotto.  DePrimo said that he has kept the receipt in his vest pocket "to remind me that sometimes people have it worse."
I wanted to share this amazing story of a true compassionate human being.  His actions are truly inspirational.  The officer did not know of the picture until he found out that the picture had gone viral on Reddit and Facebook.  I think his parents are really proud of their son.
Maybe this Holiday you should consider buying shoes or another item for someone less fortunate.  If you are reading this then you are more fortunate than most.  Remember paying it forward is always the best.
It is nice to know that there are still good people in the world.
God Bless You Officer DePrimo!
Email: [email protected]
Twitter: @adrakontaidis & @talkrealdebate