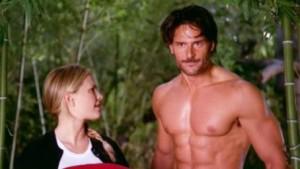 The Primetime Emmy Awards will be taking place tonight and True Blood's Joe Manganiello (Alcide Herveaux) attended the TVLine Kickoff Party at Levi's Haus where he spoke about his favorite True Blood scenes and some of his upcoming projects. 
First up in the video Manganiello talks about Alcide professing his love for Sookie at the end of Season 4 and whether or not we can expect to see that explored during Season 5.  When asked what his favorite scene from the last season was Manganiello says that the killing of Marcus and abjuring of Debbie was probably one of his favorites but he also talks about the scene with Eric, Alcide and Sookie by the lake.  He reveals that the scene was actually shot on Valentine's Day and there Anna Paquin was standing between a naked Alexander Skarsgard, naked Joe and his wolf Thunder was a few feet away.  Next up Manganiello talks about some of his upcoming projects such as his appearance on 'White Collar', his movie 'What To Expect When You're Expecting' and the stripper movie 'Magic Mike' he is expected to be in, although he reveals that he hasn't finished the contract yet.  When asked if we will be seeing the full Manganiello in the movie he replies that we will have to hit the theaters to find out.  Watch the full interview with Joe below!
Source: TVLine.com – Joe Manganiello on Alcide/Sookie, Getting Naked For True Blood, and Stripping With Matt Boomer
Video Credit: Youtube.com – PMCStudios1
Photo Credit: HBO, Inc.