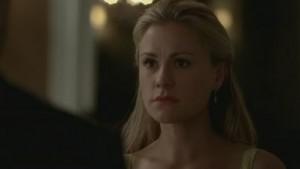 Don't read on if you haven't already seen Episode 6 (I Wish I Was The Moon) of HBO's True Blood.
Well, what an episode this one was! Fans of the Sookie (Anna Paquin) and Eric (Alexander Skarsgård) relationship were in for a treat. It started with that kiss at the end of the previous episode. We spent all week wondering what would follow in the opening scene of the new episode. And good on Alan Ball to drag that anticipation out even longer – right to the end of the episode, in fact!
While we all hated Bill (Stephen Moyer) at the start of this episode, there were a couple of tender moments that made our hearts melt for Sookie's first beau. When Eric uttered the words: "Tell her I was born the night she found me," we started to melt for Eric, but then when we saw the look on Bill's face when Eric uttered the words: "After I'm gone, I hope you'll find your way back to each other… because she deserves happiness," there was no way we, as an audience, could hold complete malice for Bill. Bill letting Eric go, even at the expense of losing Sookie forever, was the icing on the cake.
So what did you think of Episode 6?
Check out HBO's Inside the Episode for "I Wish I Was the Moon":

Source: HBO – Inside the Episode: I Wish I Was the Moon
(Photo Credit: HBO, Inc.)