[You can read an extended multimedia version of this article at 2beMag #11, with video and gallery included!]
The influence of video in the world of film and video art is a constant reality that once again expands the horizons of these artistic expressions. Juanma Carrillo and Felix Fernandez demonstrate the impossibility of drawing such limits with their new work "This Leak", the promotional video for the single Rubeck musician and composer of his LP "The incident". A proposal defined by their own marketing strategies for their dual character between music and video art piece.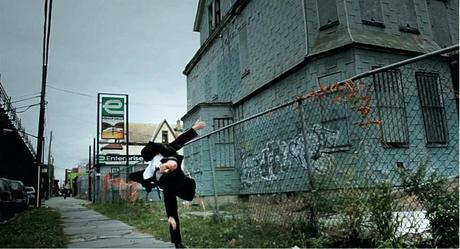 Juanma Carrillo renowned photographer and filmaker of short films like "The flowers also produce thorns" or "say" and Félix Fernández great performer and artist, returns to work together in this production along with musician Rubeck. The video treats the theme of the trilogy "Cover Me ", a draft video creation yet to finish by the three artists about the individual's solitude and the search for loved ones.
THIS LEAK from Félix Fernández on Vimeo.
"This Leak" who participated last month in Region 0. The Latino Video Art Festival of New York, shows the cathartic process of a businessman from Wall Street to a new perspective for the future. The rigid attitude of the character contained in the geometry and the stress of New York is released by a dance under the open sky in the same city. Finally, shining in the evening light releases its hidden look to new horizons and discovers the extent of the surrounding space.
[Article by Lorena Vilela for 2beMAG issue 11]