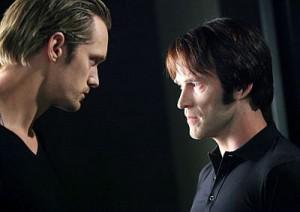 Who loved the tentative and often downright awkward relationship between Bill and Eric in Season 4 of HBO's True Blood? Well, if what Alexander Skarsgård has to say to MTV is anything to go by, we can expect more of it in Season 5.
"It's an interesting dynamic between those two guys, those two characters. I could see that. I don't know. I haven't read — they're breaking season five now, so I don't know what's going to happen, but I'm sure there's going to be some nice Bill and Eric moments."
Make sure you check out the video below for the full clip (but beware that it is a US-only video, those from other countries will be unable to view it):
Get More: Music News
 
What do you think about Eric and Bill's relationship? How about the triangle between them and Sookie? Let us know by commenting below.
Source: Hollywood Crush MTV – Alexander Skarsgård Teases 'Some Nice Bill, Eric Moments During True Blood's Fifth Season
(Photo Credit: HBO, Inc.)