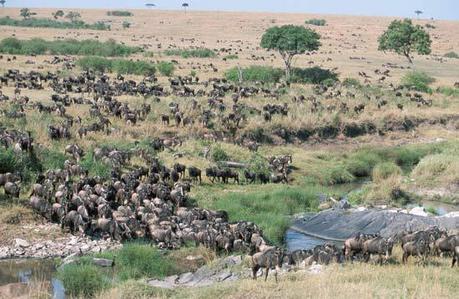 Last week conservation organisations and members of the media rejoiced in the knowledge that plans for the proposed Serengeti road had been abolished. The two-lane highway was intended to be constructed across the national park, as a means to boost Tanzania's economy by linking isolated Serengeti villages outside of the national park with Arush, a Tanzanian city, and shores of Lake Victoria and other central African nations to the west.
Scientists have warned the government that the planned 33 mile highway could disrupt the annual wildebeest migration, considered one of the wonders of the natural world. This in turn could impact numerous wildebeests and zebras, subsequently affecting predators such as lions and cheetahs. The intensions behind the plan to build the road could therefore have an adverse affect on the Tanzanian economy. The Serengeti "is not all of Africa …but it's everybody's image of Africa" states Stuart Pimm, conservation ecologist at Duke University. If this image of Africa is ruined tourists could go elsewhere.
Fears over the proposed road has been subsided as a letter written by Tanzanian government officials addressed to the UNESCO World Heritage Centre claims that "the proposed road will not dissect The Serengeti National Park", and that "the roads will remain gravel". But it may be too early to celebrate.  Some have pointed to the confusing nature of the letter, where it claims both that the "road will not dissect the …park" and that the "traversing" road will "remain gravel". The current road that spans through the Serengeti is dirt, so it cannot possibly "remain gravel".
Even if we were to assume that the government is not going to build the highway road, and that they instead plan to exchange dust for gravel, David Blanton predicts that "there will be demand for use of that road in the future". This would inevitably lead to a paved road and eventually a highway". If this should happen the wildebeest migration would be affected, and one of nature's wonders will be destroyed.
By Nancy Bukasa