Fashion Weeks are held around the globe two to four times a year to showcase designers' season collections. However, there is one huge fashion event that only happens once a year that takes us to another world of glamour, couture and fantasy. The famous Victoria's Secret Fashion Show took place November 9th, but aired last night for the public to tune in to- and wow, did we get a show or what? If you missed out on the fashion extravaganza, the TV special highlighted the behind the scenes action, the six mini shows within the whole runway show, and interviews with some of the most well-known Angels. There were also performances from Maroon 5, Kanye West and Jay-Z and Nicki Minaj.
This year, the overall theme of the night was appropriately "It's Show Time!" and was split into six different themes for each collection. While each runway look is completely costume-y and are only made for this huge fashion show, almost all of the bras and panties on the runway you can pick up at any Victoria's Secret store. Designers this year got incredibly creative, and who can help but fall in love with the larger than life personality of the famous Victoria's Secret Angels. Let's take a look at each of the collections and the highlights of the big show!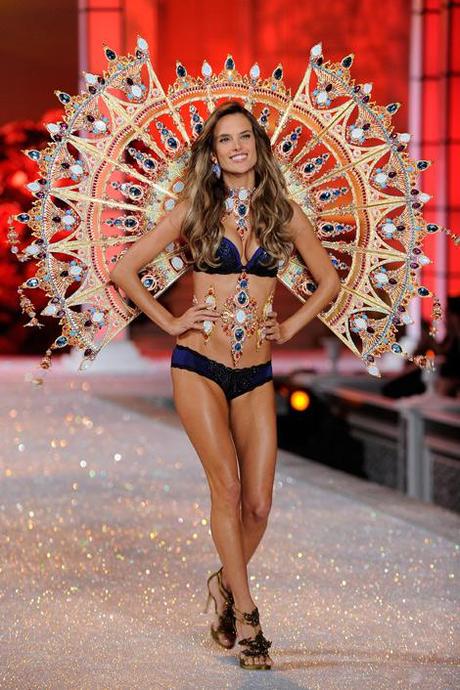 As mentioned earlier, the entire fashion show was split into six different themes that came down the sparkling runway. The lingerie looks were inspired by everything from Ballet, to super heroes to turn of the century New Orleans. Above, Brazilian stunner
Alessandra Ambrosio
strutted her stuff during the "Passion" themed collection that included very detailed, couture pieces in it. Here, her "wings" were covered in 10,000 crystals and would cost you about $100,000 if they were for sale! This was one of my favorite looks of the night. Can't you just picture this in a high-fashion editorial spread?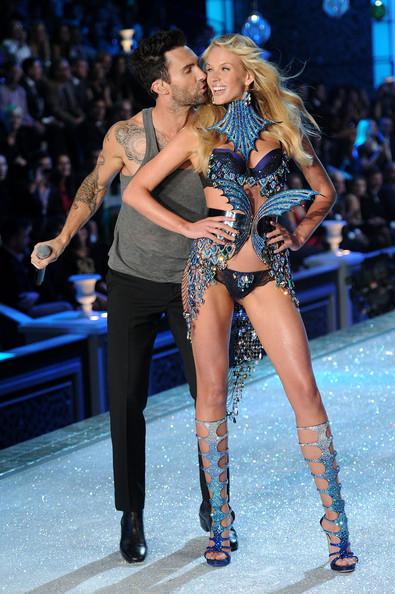 Another great moment of the night was during the Aquatic Angels themed show which was serenaded by
Adam Levine
and Maroon 5. The lead singer even got to share a special moment with his model girlfriend,
Anne Vyalitsyna
and surprised her with a kiss on the cheek when she hit the end of the runway. But this moment still wasn't the show stopper for the very popular aquatic themed collection…
Every year during the Victoria's Secret Fashion show, one lucky Angel gets to model the Fantasy Bra! This year, the honor went to Miranda Kerr. The Australian beauty is a new mom and was nervous coming in for her fitting after having baby Flynn with husband Orlando Bloom. But Kerr looked like a million bucks, or should we say $2.5 million because that is how much this year's Fantasy Bra was worth! Made with 142 carats of white and yellow diamonds among 3,400 hand-set stones, this should be defined as a piece of jewelry not a bra!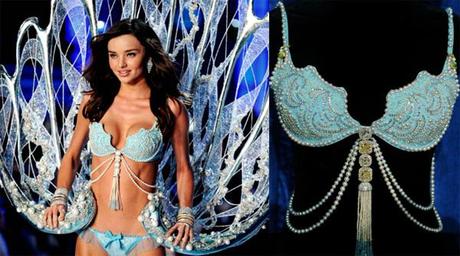 While the $2.5 million Fantasy Bra may have been the spotlight piece of the night, I was most excited by the "I Put A Spell On You" collection inspired by turn of the century New Orleans. Not only was it the most original and creative collection, but it was decked out with cameo accents! Vintage and demure these looks were not, however the cameo accents added that extra bit of whimsy and fashion that we love. We knew cameos were making a comeback and have been seen on numerous trend reports, but this was such an unexpected yet delightful place to see them!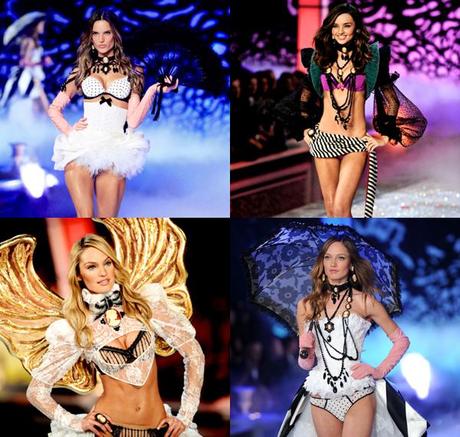 Did you watch the TV special last night? What were some of your favorite looks?
'