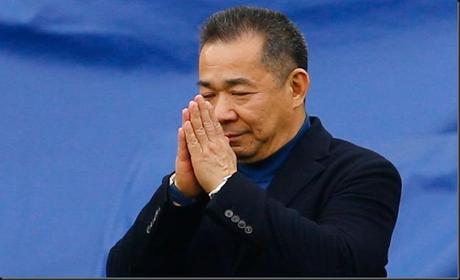 I have always wanted to show you the stunning effects of Astrology over the years and the tragic death of Thai businessman, Vichai Srivaddhanaprabha in a fiery helicopter crash last night is testament to the power of the subject I study.
You may not have heard of Vichai, but in his native Thailand and in the UK in the city of Leicester, he was totally revered. A self made businessman, Vichai was the 5th richest man in Thailand, making his fortune through the Duty Free company King Power. If you have ever been travelling, no doubt you will have noticed duty free bags emblazoned with the logo of his company. He bought out a football team in the United Kingdom, Leicester City, and Leicester started an incredible run of success that lead to a fairy-tale victory in the English Premier League. Little Leicester stunned the world in winning the most revered league title in world soccer. Their success captured global attention, and the team paraded the trophy in front of a million people in Bangkok. This man was a philanthropist, a family man and universally loved.
Last night after a match at Leicester's King Power Stadium, the private helicopter of the club owner landed on the pitch as it always did. As it took off with Vichai and his daughter on board, something went catastrophically wrong, the helicopter stalled in the air and came crashing down in a fireball in the club car park behind the stadium. There was no chance for anyone on board.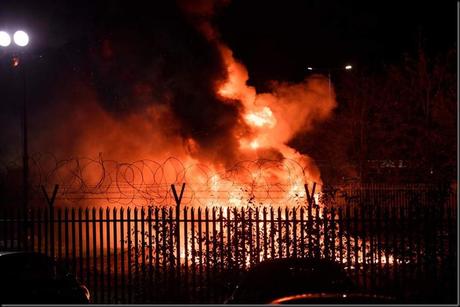 Vichai was born on 4th April 1958, an Aries entrepreneur who was always on the move. Aries is ruled by Mars in anyone's chart, and Vishai's Mars potentially linked into both his Sun and Moon, making a sextile to his Sun and a potential trine to his Moon. It is certain that he was born at the time of a Full Moon and it is rather ironic that his ultimate fate was decided at the time of another potent Full Moon. Mars linked into his Sun and Moon would have made him someone very dynamic, an individual always on the front foot leading the way. With Mars in Aquarius opposite to the ruler of that sign, he was unconventional, unique, humanitarian and determined to get things done in his own inimitable way. This was a leader of a team, no doubt about it, and in his life it showed.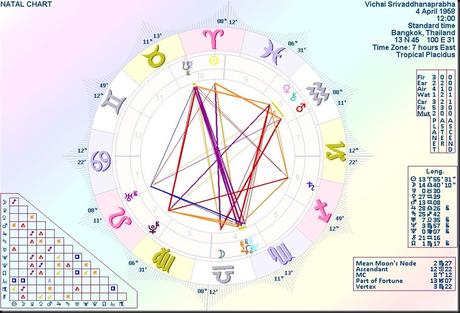 His natal chart was characterised by a stunning opposition surrounding his Nodal Axis. Transiting Mercury on the cusp of Taurus was opposed by Jupiter in late Libra and Neptune in early Scorpio, with Mercury conjunct to his South Node, a point of detriment and Jupiter and Neptune either side of his lucky North Node. This opposition was squared by Uranus, the planet of humanitarianism and also shocks and accidents in Leo. It is no coincidence that Vichai amassed huge wealth connected to long distance and international (Jupiter) travel (Mercury).
He was a big business magnate, and his natal Pluto sat on the cusp of Virgo, conjunct to the fixed star Regulus, the star of kings. How ironic then that "King Power" was his company name, no more appropriate a name for a company could you find than that one!! That Pluto was opposite to Venus, the planet of values and money, and he amassed fortunes in his business empire, Vichai was a money making machine of a man. This opposition promised something else. Venus would be a transforming influence on his fortunes. This was to be proved to be true.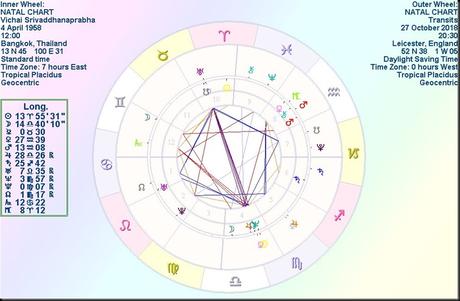 Now, you will remember that we just had a full Moon in Taurus at 1 degree of that sign that lit up that Mercury/South Node conjunction just a few days ago, and if you remember that Full Moon was conjunct to Uranus, squaring the transiting Nodal Axis in the early degrees of Leo/Aquarius. If you read my appraisal of that Full Moon posted on 23rd October I wrote "Now with Uranus closely conjunct to this Full Moon, there is a wild card thrown into the mix now. Uranus does not play by the rules, it upsets the apple cart and therefore everything that we want to remain stable and strong is likely to be completely overturned, blown out the water by things that are shocking, different or against the status quo."
That full Moon conjunct to Uranus hit Vichai's natal chart full on, a direct hit on his natal Mercury/South Node conjunction, with the Sun and Venus conjunct to the Jupiter/Neptune/North Node conjunction. You know, if ever there was a case for a warning of be careful of travelling in vehicles as there is a potential for an accident because of potential hidden mishaps or problems, here was one being rung loud and clear in his natal chart. At the time of the crash, shocking Uranus was 0.06 degrees from an exact conjunction with that Mercury, the planet of transportation.
Now this year the time after the 25th October was always going to be a very dangerous period. Why? The reason is that we are now into the dark period of Venus. As you will know, Venus is retrograde, and on the 25th just after the Full Moon, Venus made what we Astrologers call an inferior conjunction with the Sun. This began an 8 day period when Venus effectively disappears out of view until she reappears as the Morning Star. Previous to the 25th October when this conjunction was made, Venus could be seen low in the sky as the Evening Star. In ancient times as Venus moved temporarily out of view, it was regarded as a time of dangerous omens, when things went wrong, leaders were liable to disgrace or their safety was not assured. The Mayans based their lives and calendars around the 584 day cycle of Venus, studied it's effects and compared this moment when Venus entered the "underworld" as a time of danger and transformation; a time when Venus (seen incidentally as a male God and not female) speared his victims killing them instantly.
This transiting Venus was at the time of the accident sitting conjunct to Vichai's natal North Node, his point of destiny. It was like the God spearing him down as the Mayans prophesised, just increasing the danger level even more. You know, that's ironic, as his death has precipitated and outpouring of love (and Venus is the planet of love) for what he did in his life. This was a hugely generous and kind man, he gave to charitable causes, valued the notion of community, and came to the UK and gave his heart and soul for an unheralded town, propelling their local team to the top of the world. He will be greatly missed, and I send my condolences to his family and the wonderful people of Leicester, his adopted town.
If you appreciate my work, please share it to friends and groups - thank you...