On June 13 a young harbor seal was rescued at South Mission Beach in San Diego. Veterinarians from SeaWorld determined that she had cataracts in both eyes that left her almost blind and unable to hunt for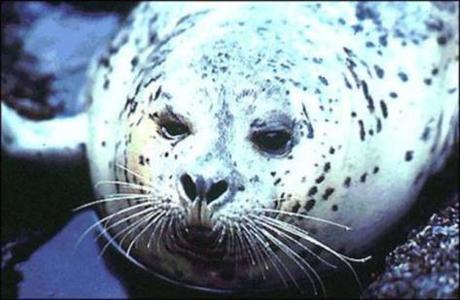 Harbor Seal (Public Domain Image)fish. Last week the vets performed cataract surgery which they hope will improve her vision sufficiently to allow her to be returned to the wild.
The four-month-old seal was 30 pounds underweight and dehydrated when she was rescued. Cataract surgery is rare for seals. Cutting-edge techniques and state-of-the-art equipment were used in the surgery. She is now being closely monitored and receiving regular eye drops.
The seal, who has not been named, is recovering from last week's surgery in the marine park's animal care center. She is being hand fed and kept out of water until the incisions heal. Once she returns to normal weight and health, and displays an ability to catch her own fish, the vets hope to return her to her natural habitat.
For more than 45 years SeaWorld has been rescuing and rehabilitating animals along the coast of San Diego. This year so far they have rescued 102 animals.
Source: Fox5 San Diego, SeaWorld