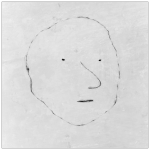 Verse Us
- Poems I write: haiku, senryu, mesostics, free verse, random word constructions, I might even use rhyme or meter once and a while.  
Threads – A Two Dimensional Poem
I recommend viewing this in full screen.
Wait to Speak
The barn paint wears on it a weariness from a season or more.
The new woven threads of smoke
contemplate the dark wood's temperament.
Will our plans have the cloth needed?
The line is in the cold needle,
As our mothers stitch the cloth of wintertime.
I'm looking forward to exchanging this shirt
for the smell of the garden season.
The Cloth It Wears
Looking forward, the line of wood smoke smell
speaks of the dark season.
The new paint needed on our barn will have to wait.
I'm exchanging the garden plans for the needle's thread,
As our mothers contemplate the wintertime temperament.
Woven in to the cloth of this shirt is a stitch, or more,
a weariness, from the cold season.
Get Each Week's
Verse Us
in your email box
First Name:
Last Name:
Email address:
In addition to a monthly email you can also subscribe to the following weekly series:
One Minute Meditations
Tiny Drops (Photography series)
Compass Songs (My Favorite Poems)
Dialectic Two-Step
Modern Koans (interesting questions)
Sunday Morning Coming Down (Music Videos)
Relics (Timeless Republished Articles)
Say What?
Quotes
Verse Us (Poems I Write)

The post Verse Us – Threads – A Two Dimensional Poem appeared on Andrew Furst.