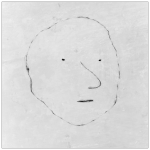 Verse Us
- Poems I write: haiku, senryu, mesostics, free verse, random word constructions, I might even use rhyme or meter once and a while.  
Tacoma Ain't Got No Spine (Over)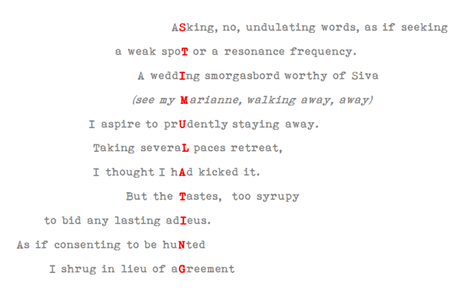 This poem is a mesostic.  A mesostic is a poem or other typography such that a vertical phrase intersects lines of horizontal text. It is similar to an acrostic, but with the vertical phrase intersecting the middle of the line, as opposed to beginning each new line. It was used extensively by the experimental composer John Cage – someone I have always admired.
Get Each Week's
Verse Us
in your email box
First Name:
Last Name:
Email address:
In addition to a monthly email you can also subscribe to the following weekly series:
One Minute Meditations
Tiny Drops (Photography series)
Compass Songs (My Favorite Poems)
Dialectic Two-Step
Modern Koans (interesting questions)
Sunday Morning Coming Down (Music Videos)
Relics (Timeless Republished Articles)
Say What?
Quotes
Verse Us (Poems I Write)

Tacoma Ain't Got No Spine (Over)
ASking, no, undulating words, as if seeking
a weak spoT or a resonance frequency.
A weddIng smorgasbord worthy of Siva
(see my Marianne, walking away, away)
I aspire to prUdently staying away.
Taking severaL paces retreat,
I thought I hAd kicked it.
But the Tastes, too syrupy
to bid any lasting adIeus.
As if consenting to be huNted
I shrug in lieu of aGreement
The post Verse Us – Tacoma Ain't Got No Spine (Over) – A Poem appeared on Andrew Furst.