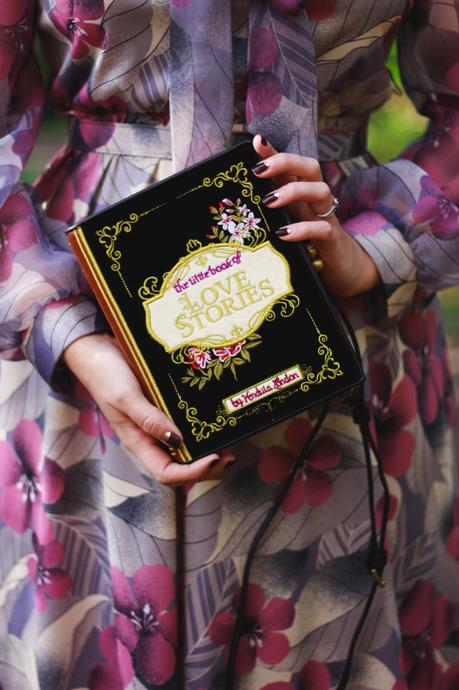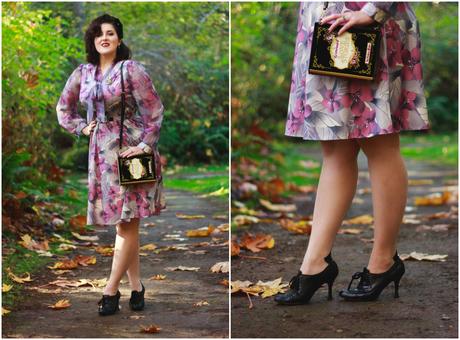 The Little Book of Love Stories
This post is apt for my blog and this month for so many reasons. For my blog, because you know I love books and this purse is a book. My favorite novels are love stories. I'm falling for maroons and purples and all things a little darker. And, this month is National Novel Writing Month, in which I am taking part. So when I was contacted to collaborate with Vendula London creative bags, and then I saw this clutch, I jumped at the chance!
And when it arrived, I actually gasped over an item for perhaps the first time ever as I opened the package. This purse is absolutely breathtaking. The black is a gorgeous soft velvet, with perfect embroidery all over and a leather title. The faux leather strap detaches and is adjustable, and the inside is lined with a cute newspaper-esque bike print fabric! It has two compartments in it, with one open inner side pocket, and a zipper pocket to divide the two compartments.
It is genuinely the nicest thing I have ever owned. And, because of the colors, it will go with so many things I own through every season of  the year!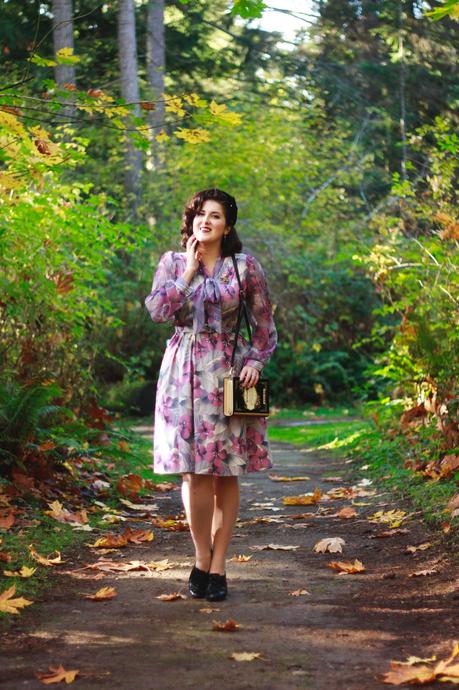 For its debut here on the blog, I wanted to put together an outfit that was as authentically 1940's as I can get with what I already own.
I recently have sold a large portion of my closet as I'm realizing that my heart really longs to dress in a way that makes me look as though I've stepped through time. Not pinup, not rockabilly, not retro-inspired, but truly vintage. So off went several items, many of which were my favorites, and now I'm waiting on two true-vintage 1950's dresses to arrive, and one dress from Amazon that mimics my preferred era perfectly.
After my fear that I might miss the garments I put up for sale, I started to feel so liberated; my closet will still hold  novelty prints and a bit of quirkiness, but there will be a streamlined feeling that has never been there before. This outfit is my gateway of sorts into the vintage realm.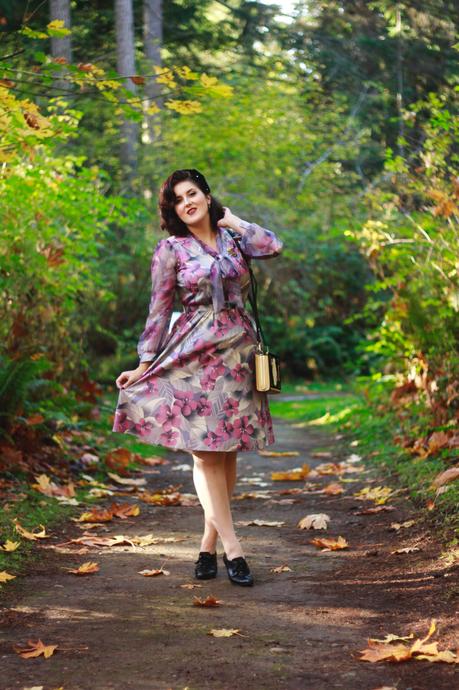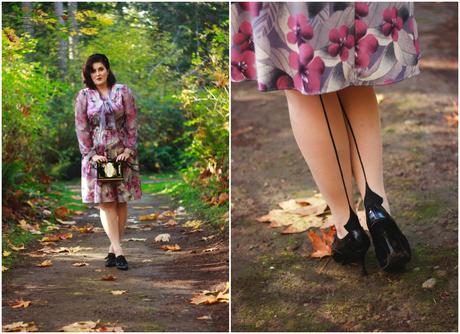 This outfit went through a series of tiny changes before I finally felt that it was perfect. I initially wore maroon shoes, which are gorgeous with this dress, and a black belt. But it felt just a little off, and it took a few changes (And also adding my glorious corset from Orchard Corsets!) for it to really feel like I could fit into the 40's almost perfectly. This dress is actually 1970's (as evidenced by the Velcro belt and polyester care tags), but the silhouette and print are so similar to something you might see in a 40's garment! Perhaps the only thing that sets it apart is perhaps the length.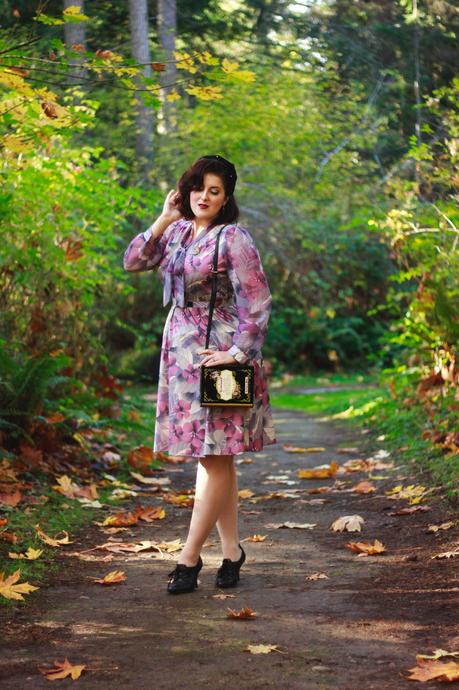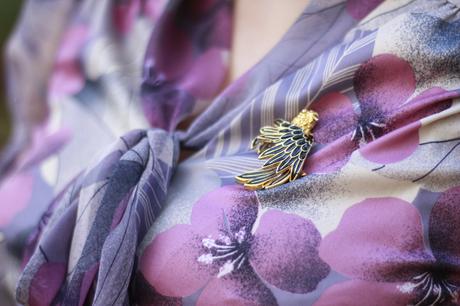 One thing that dawned on me as I worked to make this look authentically vintage was the presence of matching in accessories.
It was Skye who made me realize that the 40's ad 50's were very coordinated. Hats and belts and shoes and bags matched. Lipstick and nails matched. Colors were all cohesive. Patterns weren't too crazy. Everything had a distinct coordination present.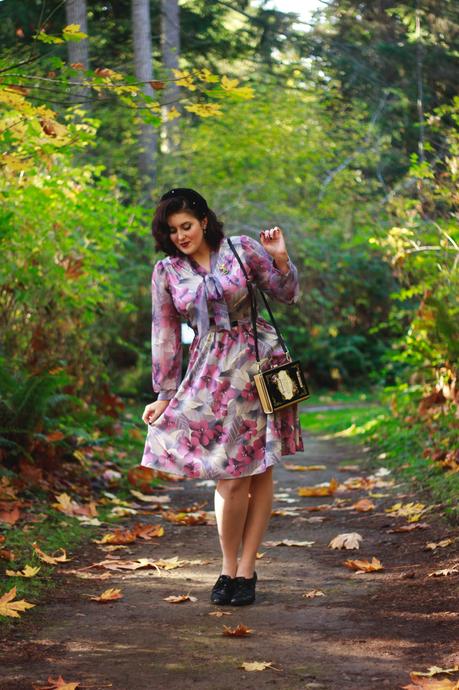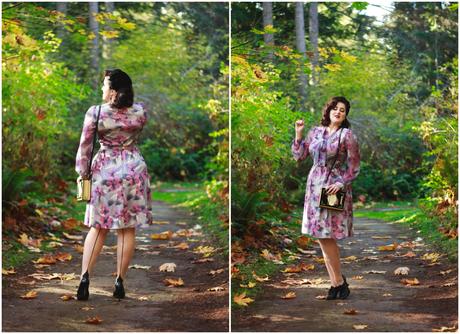 After realizing that, I exchanged my maroon shoes for black, and took the dark belt away in favor of the belt that goes with this dress. And as if by magic, it went from vintage-inspired to what it is now!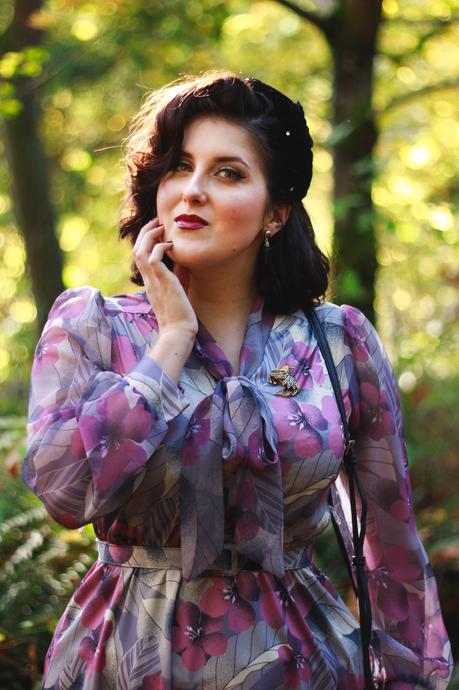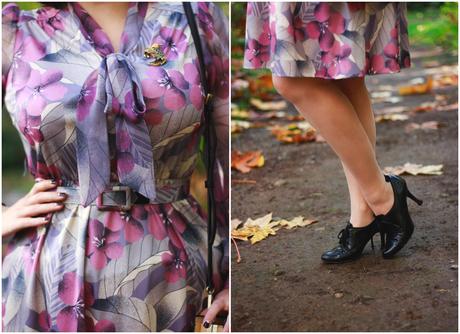 It should be noted that I even touched up my nails just for this post. I am notoriously terrible at keeping my nails painted, but of course I couldn't leave them cracked and peeling with such a glorious outfit!
I am excited with this direction of my wardrobe and blog; I hope to use new and old garments to emulate the 40's and 50's, and hopefully share with all of you how to get a vintage look without breaking the bank! My ultimate goal is to blend in to all of the images I've reblogged on Tumblr.
Happy Thursday!
Dress, vintage/thrifted | hat, vintage | brooch, vintage/thrifted | Tights, Amazon | heels, thrifted | bag, c/o Vendula London | corset c/o Orchard Corset | earrings, vintage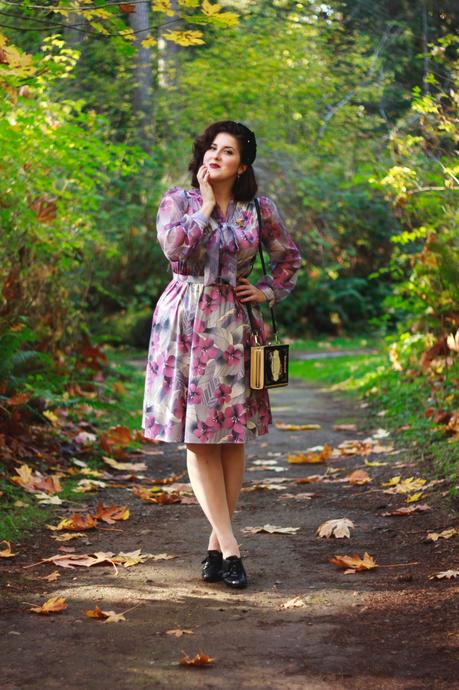 Save
Save
Save
Save