A few days ago, I invented this tasty Vegetarian Seasonal Salad with home-grown fresh chervil that I used in an orange dressing! The rest, my husband used, to make a similar soup, like I did, a few days ago. You can find the soup recipe here! My husband Peter gave it a 10/10! x It is a very colorful salad that you all will love too. I served it with a lovely white wine like a crisp cold Pinot Grigio. The wine & salad did go fabulous together! :)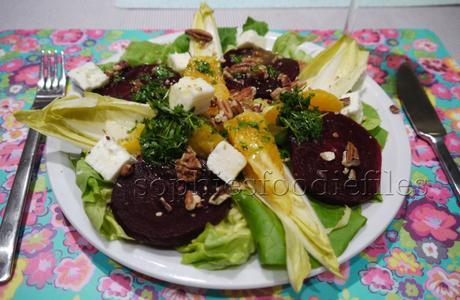 You see all of the different veggies & ingredients that I used in here? Let's look at that beautiful divine dressing & wine?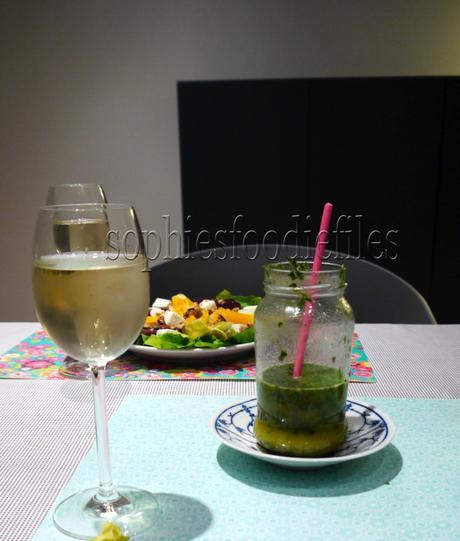 Recipe: for 2 salads
Ingredients:
* For the salad:
enough lettuce leaves for the base of 2 salad plates, cleaned, washed & spun dry
2 fresh ground chicory, cleaned, big hard core removed, cut up horizontally into thicker strips
2 medium beetroot, cooked, peeled & cut up into round slices, each about 0.5-1 cm thick
1 big juicy orange, peeled, white bits removed, cut up into longer pieces
about 100 gr sheep's feta, that is gluten-free, drained, pad dry & cut up into equal-sized chunks
pecan halves: 41 gr (1/3 cup)
* For the fresh chervil-orange dressing:
juice of 1 big orange or 2 smaller ones
1 handful of fresh chervil, cleaned, pad dry & cut up finely
20 grins of finely milled black pepper
a few pinches of Maldon sea salt
4 tablespoons of a fruity extra virgin olive oil
Method:
1. First, toast your pecan halves in a dry non-stick pan over low heat, in 1 layer until fragrant & toasted. Shake your nuts often & turn them over with the help of your hands or wooden spoon.  Watch your nuts! See that you don't burn them. Lower your heat if you need to. Turn heat off & set aside.
2. Plate up your salad plates. Place enough of the lettuce leaves on the base of your plate. See picture above.  Place your white chicory strips, like picture above. Place 4 orange segments on top of the chicory strips. Place 4 cooked beetroot on top of your salad leaves, or in a pattern that you like. Your salad has to look attractive, right? Scatter 6 to 7 sheep's feta chunks over the salad. Do the same with your other plate. Set aside.
3. Finally, make your chervil-orange dressing.Take a larger jam pot & pour orange juice, olive oil i it. grind 20 grins of black pepper in it along with some pinches of sea salt. Now, add your cut up fresh chervil to the jam pot & screw the fitting lid on. Shake your jam pot a few times up & down until the dressing is well emulsified. Taste! You must taste the fresh chervil first & then the orange & pepper! It is a more milder dressing & that is what you need for this salad! Top your salad with the toasted pecan halves, that you crumble over the salad. Pour your dressing in a round over the salad & enjoy instantly with a loved one & with a glass of dry white wine like Pinot Grigio! :) This salad really fills you up with the yummy sheep's feta & the cooked beetroot! All of the flavors top beautifully together! MMM! Stay Tuned! If you liked this post & want more of them, join 1,248 email followers! Subscribe by email! It is free!  
Follow Blog via Email
Enter your email address to follow this blog and receive notifications of new posts by email.
Follow me on Facebook too! :)
Sophies Foodie Files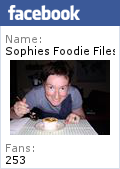 Filed under: Egg - Free, Gluten - Free, Salads, Vegetarian