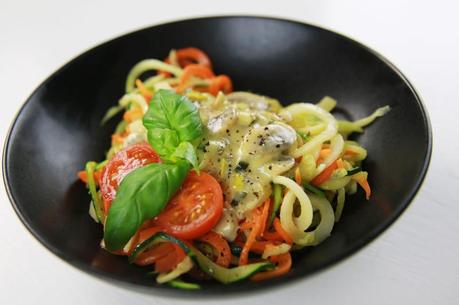 Our vegetarian LCHF week has come to Friday's dinner: Vegetable spaghetti with mushroom and blue-cheese sauce.
Clearly a colorful and tasty alternative to pasta!
Here's a recipe and nutritional value, 83 energy-percent fat and 7 energy-percent carbohydrates...and our previous vegetarian LCHF meals:
Recipe
Vegetable spaghetti:
3 kohlrabi
2 zucchini
1 carrot (optional for those who want to further limit the carbohydrates)
4 ounces (100 gram) coconut oil or butter
salt and pepper
Mushroom and blue-cheese sauce:
4 ounces (100 gram) butter
12 ounces (350 gram) fresh mushrooms
½ leek
½ cup (1 dl) white wine
5 ounces (140 g) blue cheese
1¾ cups (4 dl) heavy whipping cream
salt and pepper
Slice the mushrooms and sauté them in butter. The mushrooms will release quite a lot of liquid but don't pour it out, let it reduce for more flavor. When the liquid has boiled up, add the leek and let it sauté until soft. Add wine and let simmer for a while. Crumble the cheese and stir until it melts and blends in. Add cream, salt and freshly ground pepper.
Make "spaghetti" out of the vegetables by using a special tool or a julienne cutter. You can also grate with a cheese slicer or a peeler. Melt the fat in a saucepan or wok on high heat. Add the vegetables when the fat stops bubbling. Add black pepper but don't add salt yet, as it will pull water from the vegetables. Turn until warm and beginning to soften slightly but not too much. They are easily overcooked!
Serve immediately and don't forget to salt and add some more pepper when serving. Pour in the sauce and grate some parmesan cheese.
Nutritional Value
8 E% protein
83 E% fat
7 E% carbohydrates (ca 15 gram carbohydrates per serving)
More Vegetarian LCHF
More
More
Diet Doctor's LCHF
Healthy Tasty Green Chips!
Picnic at Diet Doctor's House
Dinner at Diet Doctor's