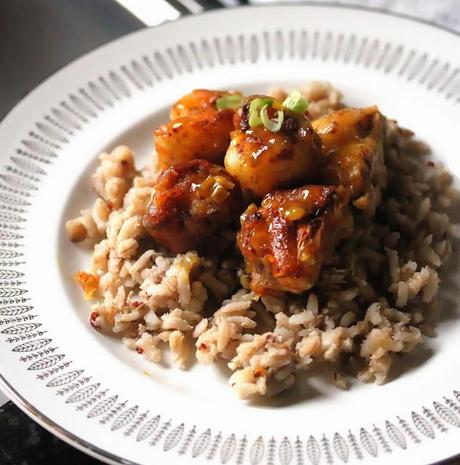 We are going to go ahead and say it: this is one of the best meals we have made this year! It might seem like a daunting recipe (and it is a bit time consuming) but it's totally doable and completely worth all the effort. The cauliflower becomes so tender and juicy, very much like chicken and the sauce is so sweet and yummy you could drink it (but don't!, you'll need it for your guests).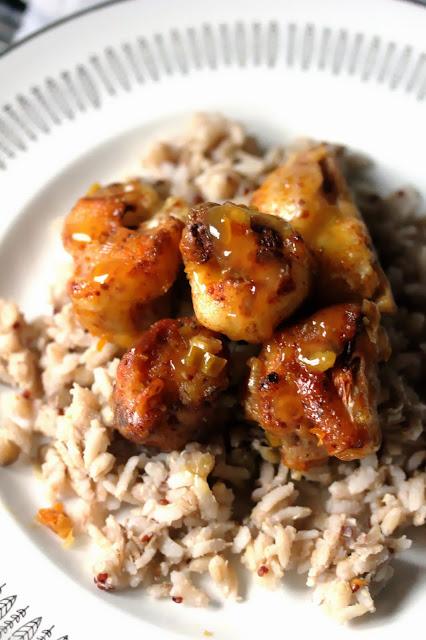 Please, please, please take our word and make this recipe. It's so good for you and cauliflower is actually one of the most protein-rich veggies so there is plenty of protein to be had in this meal. I think we will be making this again soon because it's just so darn good!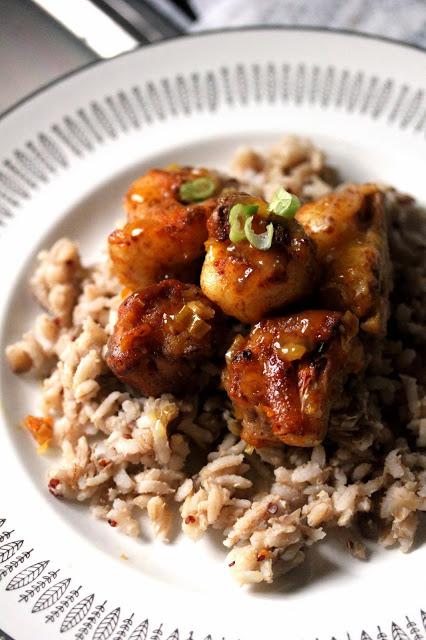 Crispy Orange Cauliflower Recipe

Recipe adapted from Fork and Beans
Ingredients 1 small head of cauliflower, cut into small florets Rice for serving (we used a brown rice)
For Batter: 1 Tbsp flaxseed meal + 2 Tb water, allow to thicken 1/3 cup water 1/3 cup corn starch  1/4 cup GF flour blend (or AP flour if not concerned about it being GF) 1 tsp canola oil
Blend all ingredients together until a nice batter is formed, the consistency of waffle batter.
Heat skillet with 1/2 cup oil on medium/high heat. This needs to be quite hot! Dip each small floret into the batter and make sure each piece is entirely covered in the batter. Fry in oil until completely browned. Allow to drain on a paper towel-lined plate placed over a cooling rack.
For Orange Sauce: 2 tbsp canola oil 3-4 garlic cloves, peeled and zested 6 green onions, thinly sliced zest of 1 orange plus juice of orange 2 tbsp tamari or GF soy sauce 2 tbsp rice wine vinegar
In a clean skillet, heat oil and garlic for 1 minute. Add green onions, zest and juice. Cook another 1 minute. Add soy sauce and vinegar and bring to a boil. Toss in crispy cauliflower into the skillet and coat thoroughly. Keep on the pan briefly. Place on top of rice to serve with sauce below.
Sweet Orange Sauce for serving: 1/4 cup orange juice 1 tsp corn starch 1 tsp brown sugar
In the same skillet the sauce above was made, throw in the remainder ingredients and bring to a boil for just 1 minute, stirring constantly. Drizzle over orange cauliflower and rice. Garnish with green scallions, orange zest, and sesame seeds.