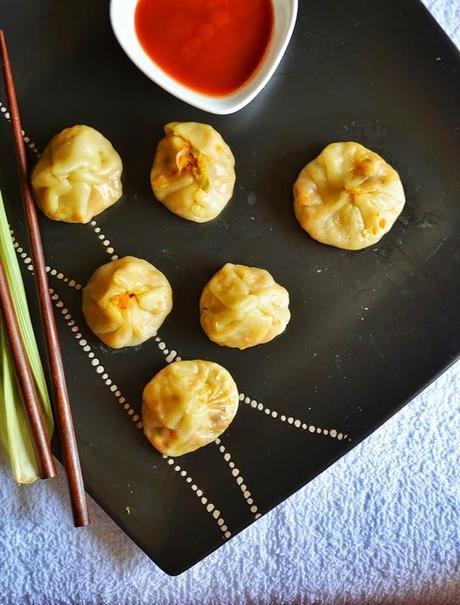 Veg momos is something I have often heard of never got a chance to taste,well until I made in my kitchen :). I saw a simple recipe for this veg momo in a small booklet of a magazine and I kept it safe as I wanted to try.That recipe finally saw the day of light after nearly an year,yeah I had taken me that long :). Momo is a kind of dumpling with/without filling.You can read more about momos here.What I am presenting here may not be authentic way of making it,I may have mised out few ingredients but what I can assure is these are EXCELLENT. Yes,I have written them bold intentionally,these are something that you should not miss,very very tasty treat for you and your little ones too,they will surely enjoy this.These momos are sort of healthy too leaving out that  maida,these are full of veggies and steamed,only concern here is maida but that too I guess we can replace with wheat flour.As I tried for the first time I wanted to stick to the recipe.But as for as filling I have made quiet a few changes,I have leaved out soy sauce and hot sauce as I don't stock them,I have used tomato puree instead of sauces.I have not shaped it very perfectly,though the procedure is simple,I guess I need some practice :). Altogether this recipe took some 40 minutes for me and the taste was just wonderful,all the momos were gone in no time,a must try one.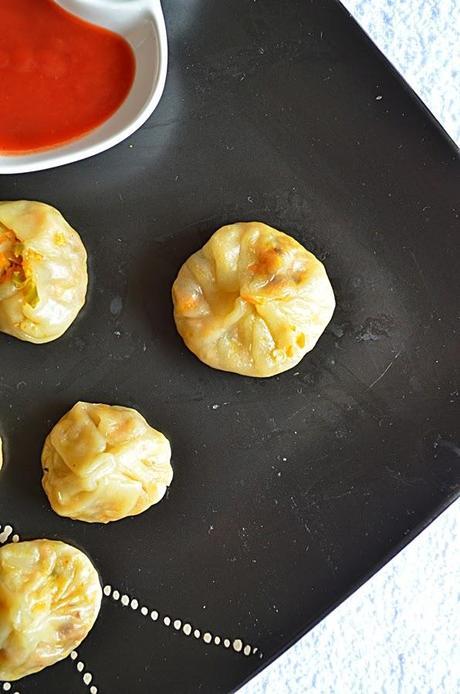 If you are interested  in such fusion recipes do check
Spring rolls at home from scratch
Baby corn manchurian
Schezwan sauce recipe
Baby corn spring rolls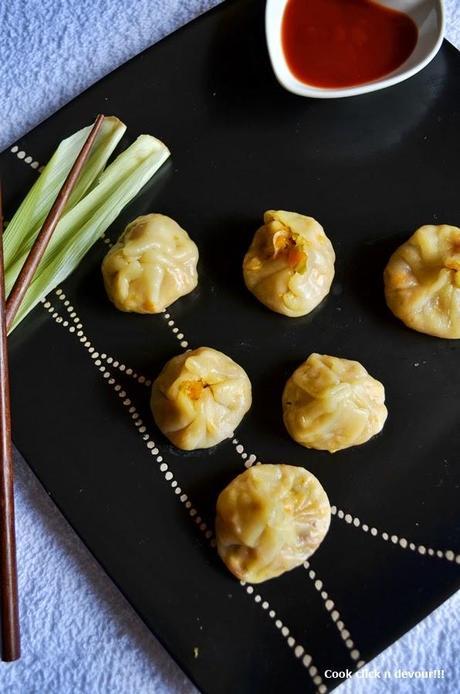 Veg momos recipe
Star ingredient:Maida and assorted veggies
Time:40 minutes
Yield:16-18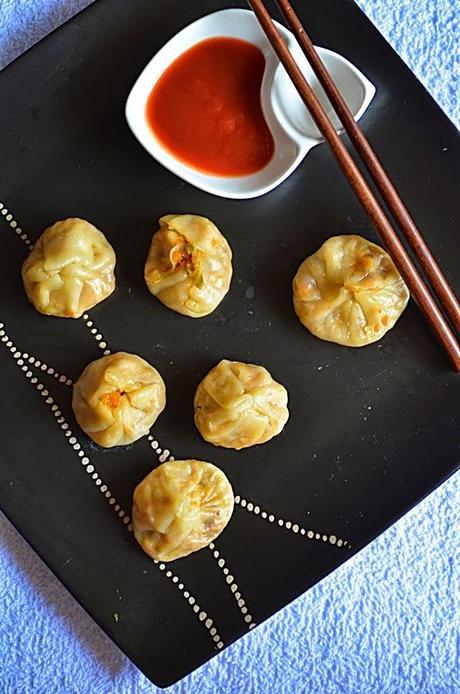 Ingredients:
For the outer layer:
1 cup all purpose flour/maida
3/4 cup water
Salt
For the stuffing/filling
1 1/2 cup finely chopped veggies (carrot,green bell pepper,cabbage,baby corn)
6-7 spring onion bulbs,save greens for garnishing
1 small onion,sliced thin
1 small tomato,pureed
2-3 garlic pod,crushed
1/2 teaspoon grated ginger
1 teaspoon chilli flakes
1 teaspoon sugar
Salt,pepper
Oil
Method:
For the dough:
Mix all the ingredients mentioned and form a soft pliable dough and rest for an hour.In the mean time we will prepare filling and cool it
For the filling:
1.Heat a kadai and add oil to it.Saute chilli flakes and sugar.Next add the crushed garlic and ginger.Saute till raw smell goes off.
2.Add the spring onion bulbs and saute till translucent.Next add the sliced onions and saute for few minutes.
3.Add the chopped veggies,tomato puree,salt and pepper.Saute in high flame for 4-5 minutes.
4.Add spring onion greens and remove from flame.Cool the stuffing.
Making momos:
1.Take the prepared dough and divide into four equal portions.Working with one portion at a time,roll in into a thin big circle.Using a cutter or lid of round box cut into circles.Again knead the remaining dough and make as many circles as possible.
2.Take one small cut circle and place 1 1/2 teaspoons of prepared filling in the center.
3.Now start pleating from one side and pleat in the same direction.Once done,sale the top and press slightly.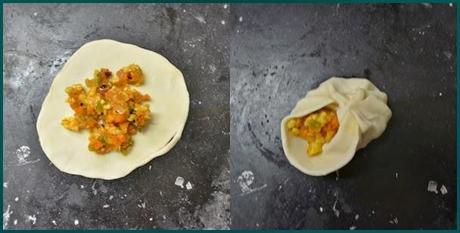 4.Boil some water in a steamer or idly cooker and arrange the shaped momos in the plate.Steam for 6-7 minutes.
5.Once done the momos will be glossy little bigger than we shaped.
6.Serve hot with tomato ketchup or schezwan sauce.
Notes:
1.Here I have used baby corn but that is purely optional
2.If you dont have spring onion greens you can use thick stems of cilantro for garnishing.
3.Adding chilli flakes and sugar to the hot oil gives a very nice flavor and you will not miss soy sauce or hot sauce doing this way.