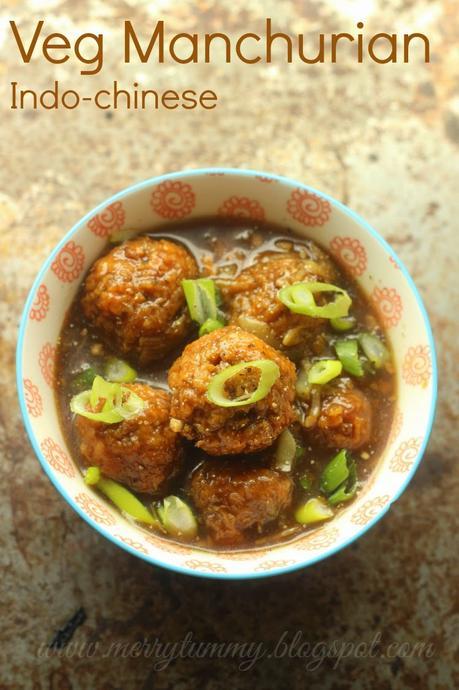 Ever since I posted this pic on 
Instagram
, all of you have been asking for the recipe. Well I can understand your craze, after all every Indian is fanatical for Indo-Chinese food. Chinese food in India is in Indian style but with Chinese spices. We use black pepper, ajinomoto, soy sauce, vinegar but make it super spicy to suffice our taste. Every hook and corner you will see vendors selling indo-Chinese food- noodles, chow mien, spring rolls, fried rice, manchurian and what not. 
In fact
 we love Chinese inspired meals so much that we even have Chinese khakra, Chinese dosa, Chinese tikki, Chinese samosa, Chinese pizza –the list is endless.
No matter what, everyone loves indo-Chinese food in India. Just say, let's eat Chinese today and see the person's face all lighten up-that's what Chinese meal does to Indians.  We have restaurants catering only Chinese food in India; restaurants like yellow chilli, mainland china and five spice are super posh and expensive and then there are medium range restaurants like china town, china hut, china wok as well. We also have road side vendors selling Chinese dishes on small karts, so whatever your budget is, whatever 
ambiance
 you prefer, if you are in India you have to try our style indo-Chinese dishes.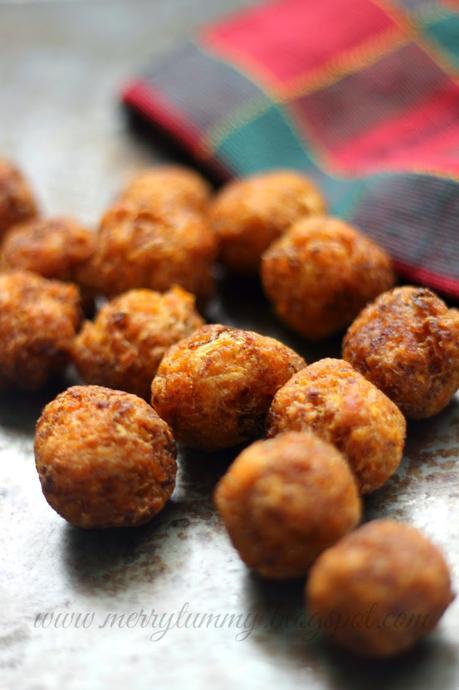 Personally, I prefer the road style Chinese food. Imagine the row of stalls in the night with dim yellow lights. Rich families drive their luxurious long cars to these stalls and enjoy the food inside the cars; students are just happy and satisfied to have such tasty dish in their budget; some just stand at stalls and scoop into hot and spicy food and take pleasure in simple life. Serenaded by the constant stream of honking and foot traffic on one side and delicious smelling hawker on the other side-the scene is so lively, I tell you.
Indo Chinese meals that I have posted before are burnt garlic noodles, egg noodles, schezwan veggie noodles, whole wheat momos and schezwan ildi. Today it is the most popular indo-Chinese dish- Veg Manchurian. Machurian is made with grated veggies which is then deep fried. It can be eaten dry just like that or can be made with gravy or sauce (wet).
This is neither a healthy dish nor does this takes less time. Lot of time and ingredients is needed to make Manchurian- but don't let that stop you from trying this dish. This is the best Manchurian ever, its spicy, garlicky and super rich in indo-Chinese flavours.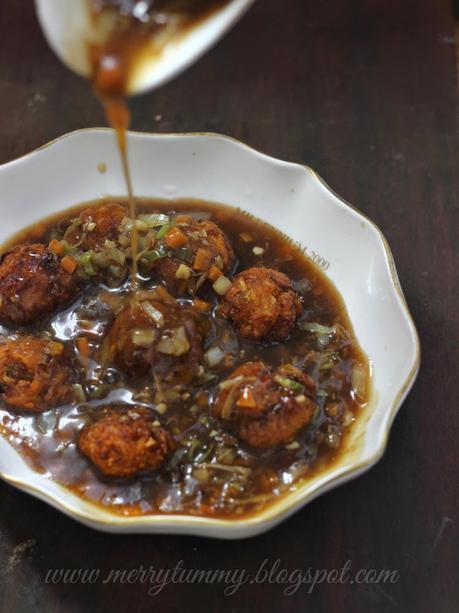 Ingredients:
(For balls)
1 and 1/2 cup grated cabbage/patta gobi
1 cup grated carrot/gajar
1/4 cup grated bell peppers/shimla mirch
¼ cup finely chopped spring onion/hari pyaz
1 green chilli chopped/hari mirch
2 tablespoon all purpose flour/maida
1/2 teaspoon black pepper powder/kali mirch
1 tablespoon chopped coriander leaves/dhaniya
1 teaspoon soy sauce
2 tablespoon corn flour
Salt to taste
Oil for frying
(For sauce)
2 tablespoon oil
1 tablespoon ginger chopped/adrak
1 tablespoon garlic chopped/lehsun
1 tablespoon finely chopped carrot/gajar
1 tablespoon finely chopped cabbage
3 tablespoons corn flour
1 tablespoon soy sauce
2 tablespoon tomato ketchup
1 teaspoon green chilli sauce
1 teaspoon vinegar
1 teaspoon sugar
2 cups water
2 teaspoons chopped spring onions for garnishing
Salt to taste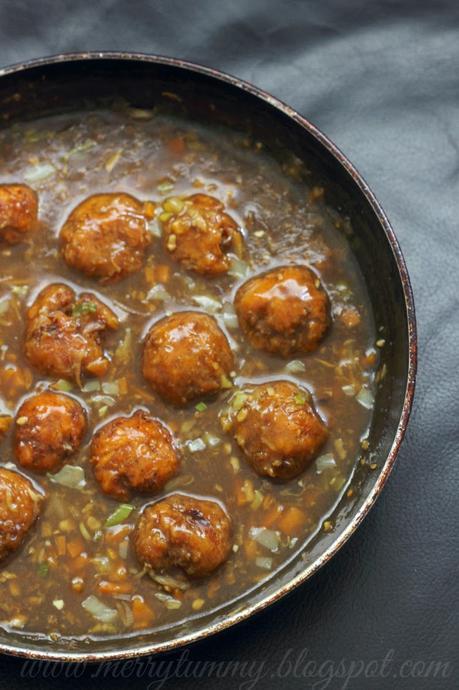 Method:
(for balls)
Heat oil in the wok for frying.
Mix cabbage, carrots, bell peppers, green chilli, spring onion, coriander leaves, soy sauce and salt. Keep aside for 5 minutes.
After 5 minutes, squeeze all the water from the veggies. Mix corn flour, all purpose flour and black pepper.
Make balls and deep fry in the oil. Fry till it is golden in color. Drain on tissue paper and keep aside.
(For sauce/gravy)
Heat oil in a wok. When oil is hot, add ginger and garlic and sauté for 5 seconds.
Add finely chopped cabbage and carrots. Sauté for 5 seconds.
Add the remaining ingredients (except spring onions). Mix and let it boil for 8-10 minutes.
Add Manchurian balls in the sauce and serve.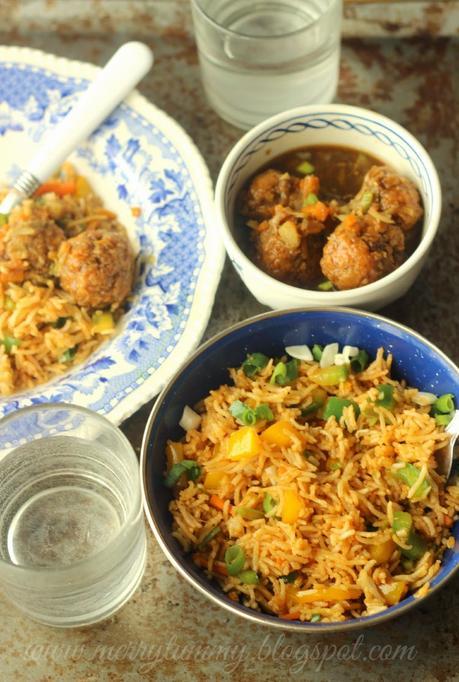 Notes:
You can use ajinomoto or mono sodium glutamate but I have heard its not good for the body so I avoid it.
Fry balls on the medium heat so that they are cooked evenly on inside as well.
Always cook Chinese in the wok on a high heat. I used this Joyce Chen Carbon Steel Wok
.
If you like thick sauce then add less water and more water for thin gravy.
Add more or less black pepper as per your taste.
I used Chings Green Chilli Sauce, Chings Dark Soy Sauce, Chings Chilli Vinegar. You can use white vinegar as well.  
Serving suggestions:
They can be served as it is without gravy as starters or appetizers.
You can serve it as a side with plain rice or boiled noodles.
Serve with bellpepper noodles, egg noodles or fried rice.