We had a great time exploring Portsmouth, New Hampshire! And did we eat well.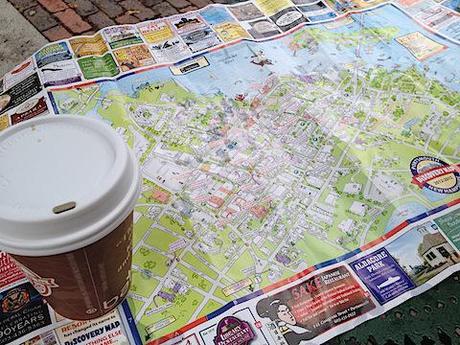 My good friend Sarah lives in the area and she showed us a great time.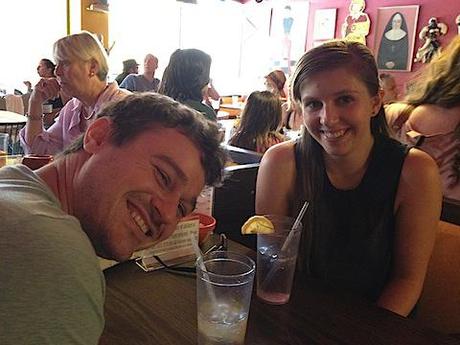 She let us share her wonderful Rhodesian Ridgeback, Roscoe, for the weekend.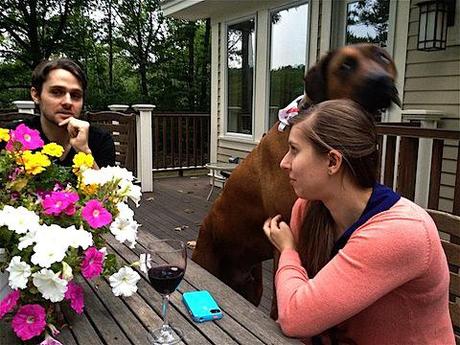 He's 130 pounds of pure love!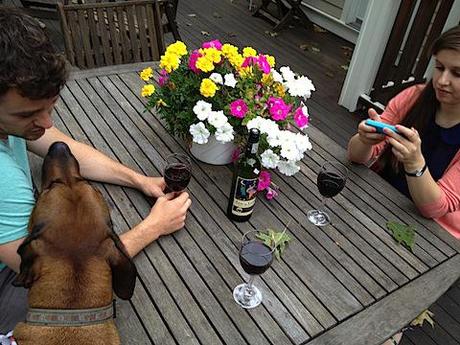 Isn't he a beauty?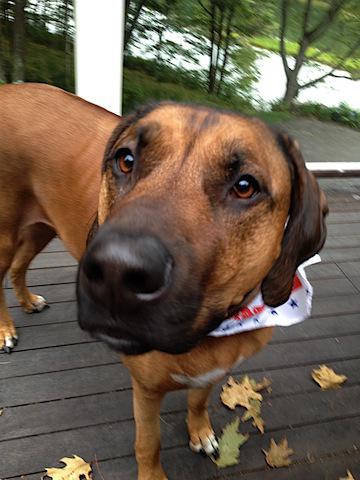 First up on our list: get some grub! I'd researched a few Portsmouth restaurants, and Sarah agreed that The Friendly Toast was a good place to go.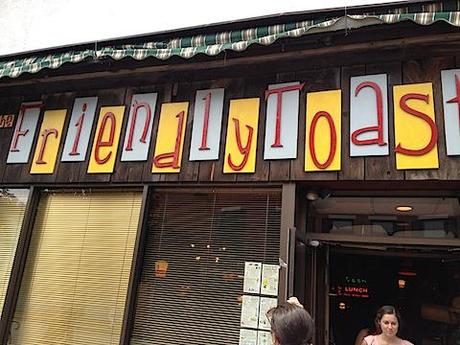 It's got a LOT going on… picture a 50s diner within a child's dream, and you can kind of picture it. Lots of old-fashioned- and creepy!- dolls hanging from the ceiling!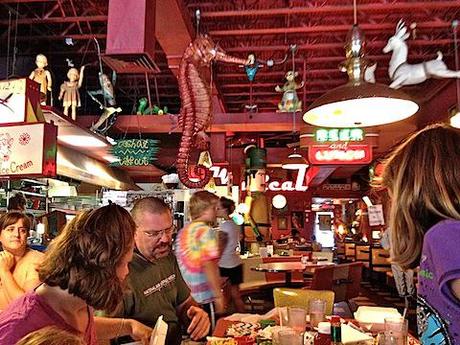 Although it was a bit of a greasy spoon, The Friendly Toast has something to eat for almost everyone, including several vegan and gluten free items. I ordered the vegan valhalla: a flour tortilla stuffed with Asian-sesame baked tofu, portobello mushrooms, brown rice, scallions, olive oil-grilled spinach, and tahini dressing. Sweet potato fries on the side! The meal was a little on the oily side, but it hit the spot.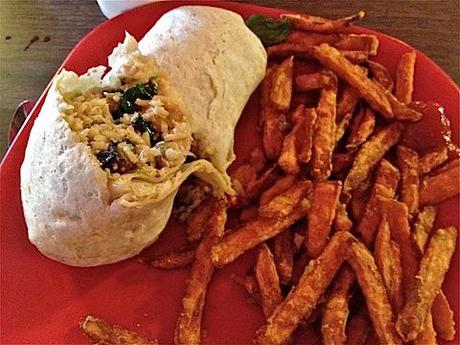 That night after an Indian dinner, we headed over to the Portsmouth Brewery for a nightcap. I always love a big selection, so I ordered a flight of eight beers! (B helped me finish them.) In addition to the beers brewed in-house, they also featured a few from Smuttynose Brewery, a company I've tried before and also happens to be brewed right there in Portsmouth!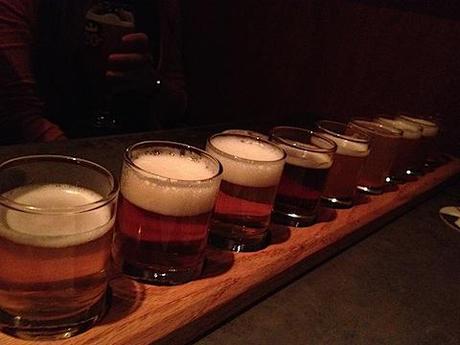 B and I returned to the Portsmouth Brewery for lunch the next day… would you believe that they had one of the largest vegetarian selections in town?! I ordered a spinach salad with caramelized pears, onions, pumpkin seeds, grilled tempeh, and a pretzel roll on the side. Hit the spot!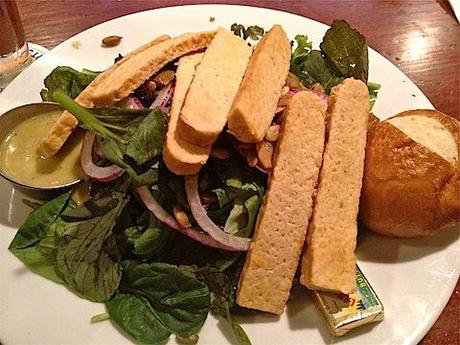 B tried the vegetarian shepherds pie, which was absolutely delicious! It's made with tempeh, potatoes and rutabagas and we licked that plate clean.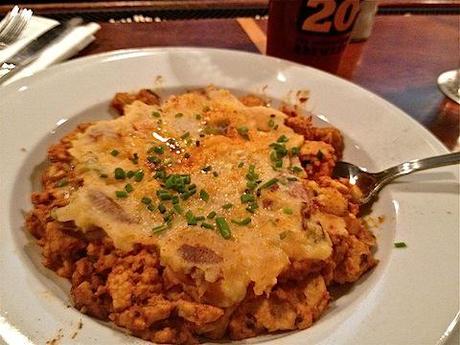 Another cute place we found was the Bagel Caboose in Kittery, Maine.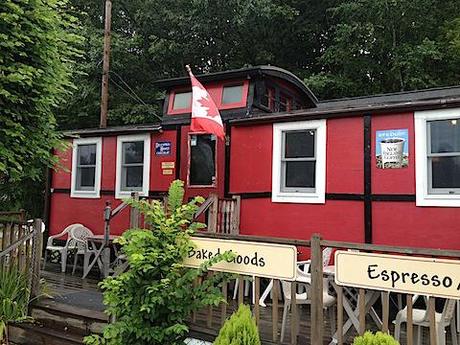 The restaurant is right inside of a boxcar, and aside from being downright adorable makes pretty good bagels!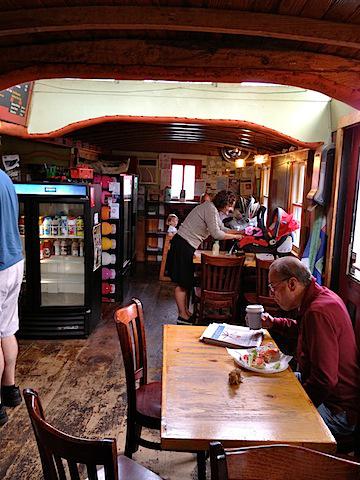 And they have three different kinds of tofu cream cheese. My wheat everything bagel with cinnamon raisin "cream" cheese was perfectly chewy and crispy!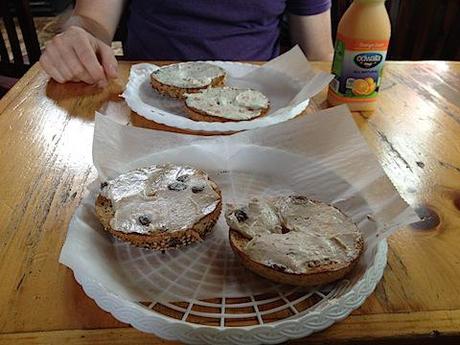 On our way out of town, we stopped in Portland, Maine, where we were just a couple months ago! While B worked, I parked myself in Local Sprouts, one of my all-time favorite cafés. I celebrated Monday with their vegan pancakes. Vegan or not, these were some of the best pancakes I've ever had! Fluffy and light, and didn't leave me with that oof! feeling some breakfasts do.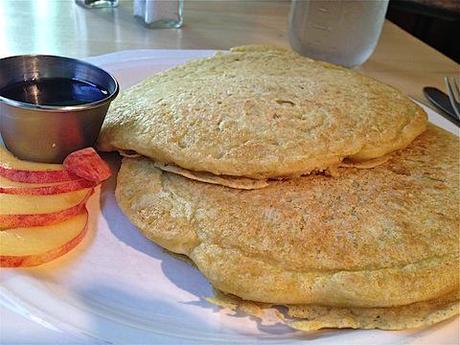 Almond milk chai to fuel my reading: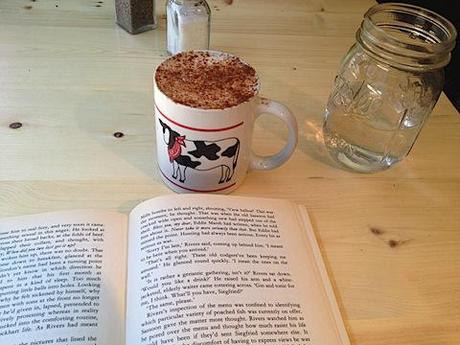 When B came back from work, we ate a quick lunch together- also at Local Sprouts- before hitting the road. I ordered a VLT salad (it comes as a sandwich but I was craving greens) with grilled tempeh, tomato, lettuce, onions, and tofu aioli.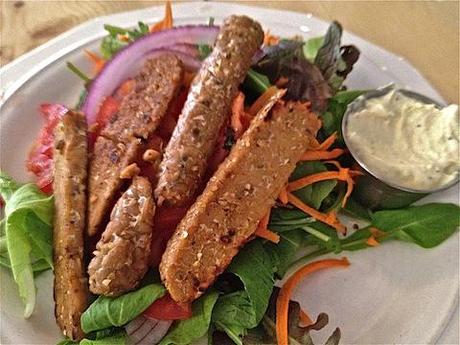 And then it was back to NYC for us! Another successful weekend trip to add to our growing list.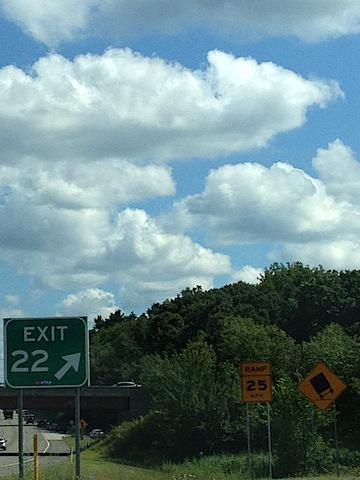 How did you spend your weekend? Do you like to make plans or keep things casual?