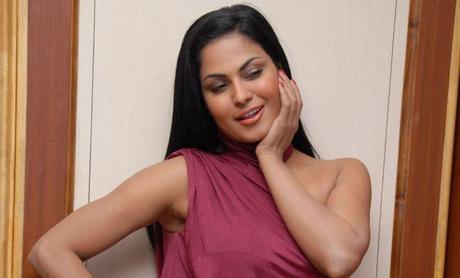 Controversy Queen Veena Malik leaves no stone unturned to grab the spotlight. After redefining the meanings of raunchiness with dirty photoshoots, sweltering movie scenes and racy MMS clips, she is now all set to break the Guinness World Record by getting kissed more than 100 times in a minute by the contestants of a reality show on her 28th birthday on Tuesday.
Veena Malik will have to receive at least 126 kisses in a minute to break the record of Japan-based Tanoshingo, who got kissed 125 times in one minute on the set of Arabikidan.
"I am really excited about this I can't wait to break Guinness world record which is going to be a huge birthday gift for me," said Veena, who emerged as most controversial actress of Pakistan after doing a nude photo shoot for India's FHM magazine.
Veena Malik's forthcoming Hindi flicks include Supermodel, Zindgi 50-50, Mumbai 125 KM 3D.and 'The city that never sleeps'. She is also doing a Telugu movie Nagna Satyam and a Punjabi flick Jatts Golmaal.