It's that time of year again! The Vanity Fair Hollywood Issue is hitting newsstands celebrating its 18th anniversary with a very Va-Va-Voom fold out cover. The editorial comes out with a Hollywood issue every year that features some of the hottest actors and actresses of the moment. And this year, the magazine decided to show off some serious girl power as they featured only 11 of Hollywood's finest "It" girls of 2011 that are sure to keep their "it" factor through 2012 and beyond. The Hollywood edition is actually VF's March issue, so here's a little sneak peek to keep you tied over!
Before we get to the glamour girls, let's talk about yet another retro reference we see here! Last week we blogged on two separate occasions about the comeback of all things vintage from Miu Miu's cameo accessories, to H&M's summer lookbook, and even our newest Belle de Jour collection! We've seen the modern adaptations of all eras from the 1940's to the 60's, but this newest Vanity Fair cover shoot gives us the true vintage Hollywood glamour of the 20's and 30's. Draped in pastel satin gowns and spread across an Art Deco set, Hollywood's leading ladies are transformed into visions of Tinseltown past.
So who were the 11 actresses worthy of such a high honor in the fashion and entertainment industry? On the front of the three page fold-out cover are Jennifer Lawrence, soon to star in the highly anticipated Hunger Games movies, Jessica Chastain, recently nominated for an Oscar for her role in The Help, Mia Wasikowska, who played the title role in Jane Eyre this past year on top of landing the Miu Miu campaign, and newcomer Rooney Mara, who has been a red carpet wonder at every premiere of The Girl with the Dragon Tattoo. Rooney Mara was also nominated for Best Actress, bringing the Oscar nom count to two just on the cover alone! Vanity Fair sure snagged some star power!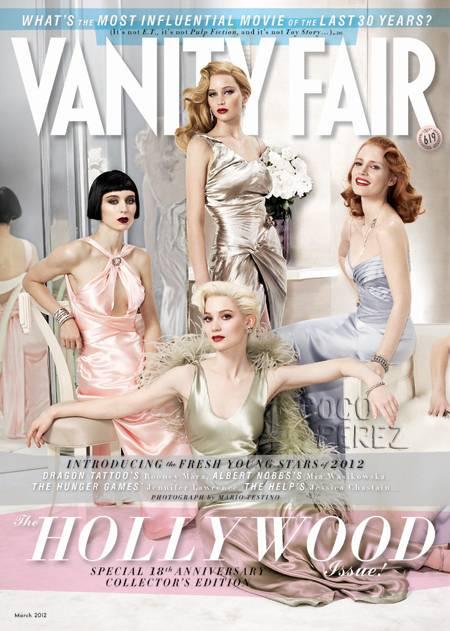 clockwise from top center: Jennifer Lawrence, Jessica Chastain, Mia Wasikowska, and Rooney Mara.
But the A-list status doesn't stop there! The next page features some of the newer ladies to hit the silver screen and make a name for themselves. Younger sister to Mary-Kate and Ashley and one of my personal fashion icons, Elizabeth Olsen joins Adepero Oduye and Shailene Woodley, both of whom have recently made the switch from TV to serious motion pictures that are getting plenty of buzz. By the looks of this cover, you wouldn't be able to tell they haven't been Hollywood divas for years!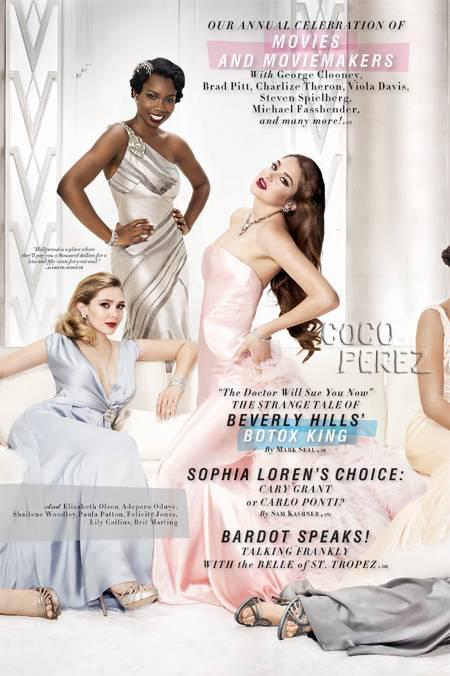 from left to right: Olsen, Oduye and Wodley
The spread continues on with Paula Patton, the beauty from the most recent installment of Mission Impossible, Felicity Jones, who stole our hearts in this year's film Like Crazy, Lily Collins, who has been cast as Snow White in the much anticipated version of the Disney classic Mirror, Mirror, and Brit Marling, who is one of the older cover girls even though the actress is only 29 years young.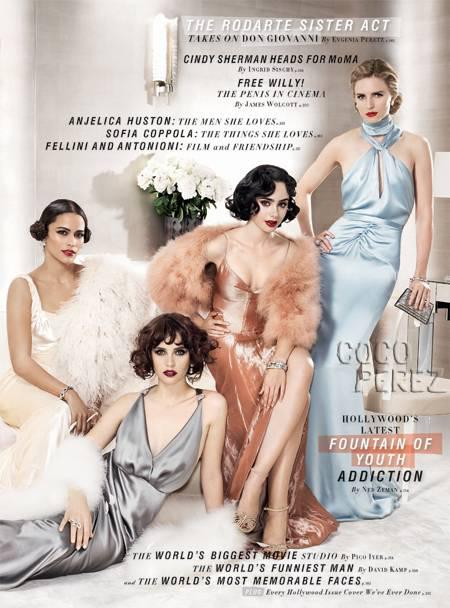 from left to right: Patton, Jones, Collins and Marling.
With all of this feminine allure and talent packed onto one magazine cover, we're sure Vanity Fair's March issue will be a hot seller! We like that they chose to only feature young women and showcased them in the most elegant and glamorous way possible. The soft curls, the pastel gowns, the strong red pouts- all of it comes together to be subtly sexy, yet not too demure. These powerhouse actresses are here to make their mark on Hollywood and this cover surely proves that point!