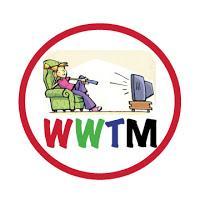 The answer to Thursday's Trivia Question: Christine Elise played Emily Valentine, Brandon Walsh's girlfriend on 90210.  She also dated Dylan McKay, set fire to the pier, gave Brandon "Euphoria" wore hideous berets and ultimately broke my boys heart.
FIRST FIVES:  Candace Gorin, Greg DePalma, Jim Carter, Tara Dowling & Monica Caraffa
Honorable Mention: Nancy Oboyski

Wednesday's Broadcast Top 5

American Idol-FOX 4.3/13.3




Modern Family-ABC 3.8/10.0




Survivor-CBS 2.4/8.9




Suburgatory-ABC 2.2/6.0




CSI-CBS 2.1/9.1




Wednesday's Broadcast Trendrr Top 5

American Idol-FOX 121,586


Survivor-CBS 83,690
Modern Family-ABC 55,452


Supernatural-CW 53,377




The Middle-ABC 42,922




Wednesday's Cable Top 5 The Big Bang Theory-1.4/3.0

College Basketball-ESPN 1.0/2.3

Moonshiners-Discovery .9/2.4

American Dad-.Adult Swim 8/2.2

Workaholics-Comedy Central .8/1.3

Wednesday's Cable Trendrr Top 5

Workaholics-Comedy Central 77,348 NBA Basketball-NBA TV 75,726 My Strange Addiction-TLC 59,788 Washington Heights-MTV 21,816 Southland-TNT 19,989

Late Night Ratings for the week of 2/4/13-2/8/13

Leno.8/3.5

The Daily Show.8/1.8

Kimmel .7/2.5 Letterman .8/3.5 Colbert .6/1.4 Fallon .5/1.6 Conan .4/.8 Nightline .4/1.5 Ferguson .5/1.6 Carson.3/.9

Early Morning Ratings for the week of 2/4/13-2/8/13-Not Available Yet

GMA

Today Show

CBS This Morning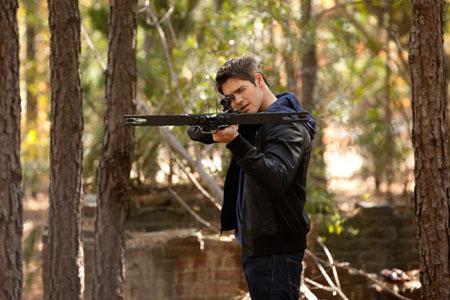 I hope I'm not ruining
The Vampire Diaries
for anyone, but I just can't keep it all in...Is Jeremy really dead?  WTF? He better not be gone.  He trained and trained and got all ripped and became a kick ass vampire hunter only to DIE?  This better not be true Julie Plec.  In addition to this horrific news, Caroline & Tyler had to say goodbye yet again. Sure it was to save Tyler's life but can't anyone be happy on this show?  Oh and did I mention that we finally found out that there is a cure for vampirism, but... and this is a HUGE but...there's only one dose of it.  So who's going to get it?  Damon, Klaus and Caroline don't want it, but Stefan, Rebekah, Shane and Elena do and apparently, so does Katherine, cause she's back and she wants that cure too...or does she?  I'm guessing that since we already know the CW has renewed Vampire Diaries for another season, chances are none of our favorites get their paws on the cure.  Great episode!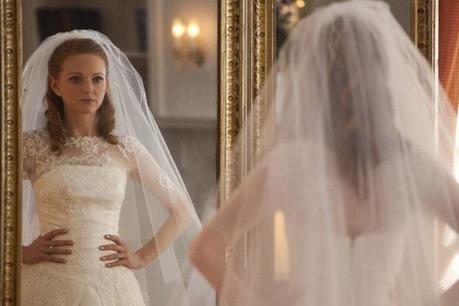 Glee
was extra juicy last night.  Emma was such a mess after kissing Finn last week that her OCD was in overdrive.  Mr. Schuster was back and ready for his Valentines Day wedding, but Emma left him at the alter instead of saying I do.  Of course they had the reception anyway and that's where Kurt and Blaine sang "I Just Can't Get Enough" which was my favorite song of the night.  Lots of crazy hook ups went down at the non-nuptials and luckily a lot of hotel rooms were available for everyone to get their groove on.  Kurt & Blaine, Quinn (who looked like she put on the Freshman 15 at Yale) & Santana (because everyone on Glee seems to go both ways), Betty the mean wheelchair chick and Artie, and Rachel & Finn.  Rachel left Finn and Lima pretty quickly and got home to Brody, but when they both lie about what they were up to while Rachel was away, we get the feeling that Brody's a guy hooker...what's the word for that?  I honestly don't know.  So Rachel cheated on Brody with Finn, but Brody cheated on Rachel with paying customers?  Love that honesty.  O...M...G...and if all that wasn't insane enough...Rachel Berry appears to be preggers!!! Yep, preggers!!!  Jake was planning on finally going all the way with Marli in the hotel the night of the wedding, but just as I expected...that didn't happen.  Marli's definitely not ready yet. Buzzkill for Jake.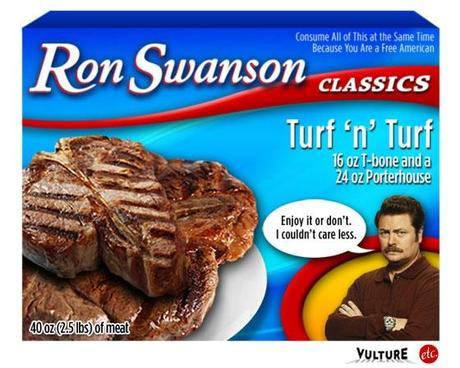 Just as Leslie and Ben are planning a Park Fundraiser  on
Parks and Recreation,
Councilman Jam who has some crazy Barry Gibb hair, staged the Pawnee Emergency Preparedness Drill where Leslie and Ann were stuck handling a fake Avian Flu epidemic while Ben and the crew were out setting everything up for the event.  Everything goes off perfectly and in a cliffhanger "To Be Continued" ending, Leslie and Ben decide to get married at the event...next week...I hate To Be Continued's. I have to get a copy of the video so I can show you guys the best part of the show.  Ron Swanson on "Pawnee Today".   Host, Joan Calamezzo was hungover and Ron ended up filling in for her. It was hilarious.  Last comment...How hot did Rob Lowe look in his tux?  He cleans up nice.
NEWS & INFORMATION:
-This coming Sunday, Maggie Smith, the Dowager Countess on Downton Abbey will be on 60 Minutes, but it's already out that she admitted to never having seen the show...Hey Maggie...you really need to watch it.  I'm sure someone you know can give you all the episodes or you can watch them on your Ipad.
-Jonathan Taylor Thomas, who played Tim Allen's son Randy on Home Improvement, will be making a guest appearance on Tim's newest show, Last Man Standing.  The storyline does allow for Jonathan to stay on if things go well.  We shall see what happens. 
-For any Curb Your Enthusiasm fans out there or for those of you that want to be, TV Land is running a marathon all weekend...your chance to catch up on Larry David and his insanity.  It's worth it!
Friday's Trivia Question: Name all 3 of Ray and Debra Barone's kids. Next week's Trivia theme...OSCARS!!!!!!!
Have a great weekend! WWTM-Kristy
http://watchingwaytoomuch.com
[email protected]
[email protected]