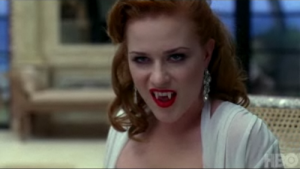 True Blood's Emmy nominated head makeup artist, Brigette Myre-Ellis, just announced she's been working with Tarte Cosmetics on a True Blood inspired makeup line of lipstick, cheek stain, and a makeup palette in sexy southern vampy colors. The collection comes packaged in a True Blood vampire inspired box and includes a cheat sheet on how to get a specific look that you may have seen on the show. Tarte is a favorite on the set and helps Myre-Ellis with creating Sookie's looks.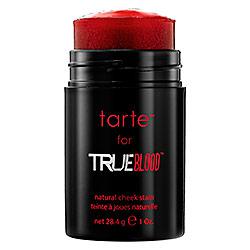 The line's lipstick, called LipSurgance, looks very bloody, so definitely something
Queen Sophie-Anne
would wear. If you are familiar with Tarte, then you know that their cheek stain is legendary.
True Blood's
line will add a shimmer and sparkle to the product, giving it a bit of sauciness which is so typical of the vamps on the show. What's even more fantastic is the ingredients. The line includes acai berry extract, goji berry extract, and marucja for antioxidants and help against free radicals. The colors in the line are made from mineral pigments (which have been known to soften skin), making the makeup natural and actually good for your skin. You can purchase all three products right now at
Tarte Cosmetics
and
Sephora
.
True Blood's Tarte line is a limited-edition collection, so make sure you snatch them up before they meet the true death.
Source: Tarte Cosmetics
Photo Credit: HBO, Sephora