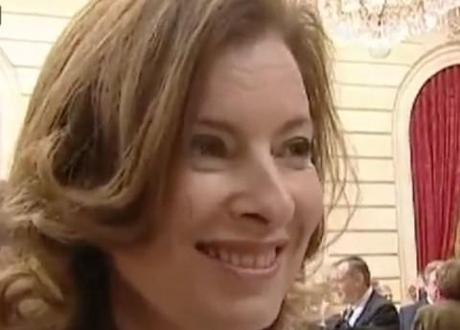 Valérie Trierweiler
The Background
François Hollande was sworn in as the new French president in a low-key ceremony at the Élysée Palace. As The Guardian reported, Socialist Hollande has demonstrated a desire to distance himself from the more showbiz style of outgoing president Nicolas Sakozy, AKA "President Bling Bling."
But that hasn't stopped the commentariat scrutinising the new French president's personal life – in particular, his relationship with partner Valérie Trierweiler, whom he started seeing in 2005 while still living with then-partner Ségolène Royal.
Much attention has focused on the fact Trierweiler and Hollande are set to become the first unmarried presidential couple. But commentators have also asked how the Paris Match journalist will stack up against glamorous Carla Bruni-Sarkozy. So who is Valérie Trierweiler?
A 'reporter-turned-reportee'
"Trierweiler has lived through plenty of campaigns. A longtime reporter for the legendary glossy weekly Paris Match, she covered politics for two decades and still writes on culture matters for the magazine," reported Tracy McNicoll for The Daily Beast. Trierweiler is now a "reporter-turned-reportee," said McNicholl, which means she will have to get used to attention from her press colleagues.
Madame Normal?
Mother-of-three Trierweiler said during the campaign that she intended to continue working because she did not want her family to be supported by the state, wrote Angelique Chrisafis in The Guardian: "If, as she has promised, the 47-year-old journalist keeps her contract with the magazine Paris Match and continues to work, it would be the first time a president's partner has held down a regular job and salary."
Not just presidential arm candy
Trierweiler was justifiably put out when a Paris Match cover described her as "François Hollande's Charming Asset," wrote Grace Dent in The Independent: "One Masters of Advanced Studies in political science, three kids, 22 years interviewing the top brass of international politics and suddenly one's on the cover of one's own magazine portrayed as a delightful fragrant bauble." Dent noted approvingly that the journalist is a regular on Twitter: "Imagine, the first lady's own unfettered, complex thoughts pinging live from her own account?.. I hope greatly that the chuntering powers-that-be behind François Hollande don't succeed in clipping her wings."
Tendency to antagonise?
Trierweiler suggested during an interview that she was better equipped to handle the unofficial role of first lady than Carla Bruni: "She came from a world totally alien to that of politics. She did not necessarily know the political codes." Anne-Elisabeth Moutet was unimpressed in The Telegraph: "This is not only dismissive but ill-judged. During her four years in the Élysée, Bruni did not put a foot wrong … Trierweiler, by contrast, has already alienated people she ought to have been assiduously cultivating."
See footage below of Valérie Trierweiler speaking after François Hollande was sworn in as French president (French language).