I received some really fabulous products recently that were absolutely perfect for a Valentine's Day look! So here it is...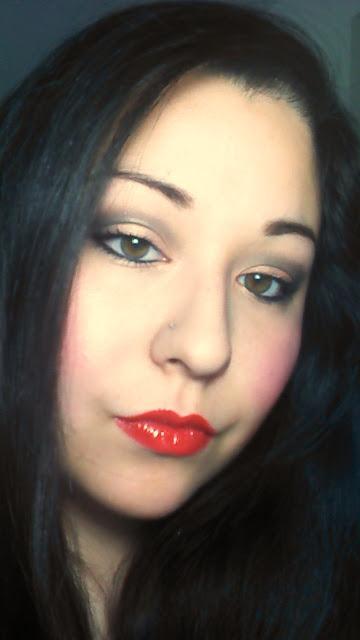 Normally I wouldn't pair a dark eye with bright red lips, but I thought I'd be a bit dramatic for V-Day this year ;)
Here's a closer shot of my lips--love this combo of gloss over lipstick. For some reason my skin is a bit lighter than it really is, probably due to the horrible lighting the day I took these shots because of all the snow outside and the overcast sky, but the lips themselves are very true to color. See below for product names.
Here's what I used:
All 4 of the shadows and the dark brown brow pomade from the Anastasia Beverly Hills Bold & Beautiful kit (previously reviewed HERE).
Juice Beauty CC Cream in warm glow (previously reviewed HERE).
Prestige Cosmetics

Fuchsia Freefall Vinylwear Extreme gloss over Romantic Red lipstick

Prestige Cosmetics Lipiner in 210 Amore

Prestige Cosmetics Fresh Glow Baked Mineral Blush in 01 Pink
The Prestige Cosmetics products that I used were ones I had never previously tried. Here they are...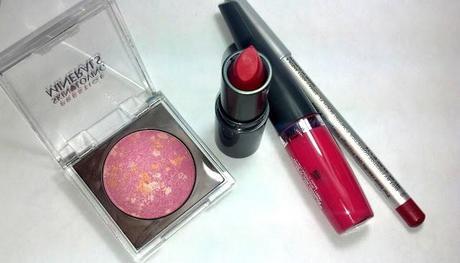 Here's a quick review of these products:
Prestige Cosmetics Fresh Glow Baked Mineral Blush in 01 Pink
This blush was very finely milled and surprisingly pigmented. The one downside for me personally was that those pretty shimmer splotches throughout create a good deal of highlighting shimmer once applied. If you like fairly highlighted cheeks then this is definitely for you. I typically prefer matte cheeks with a little highlighter on the highest points of my cheek bones only. Again, super pretty and I love how finely milled this is (and I am insanely picky about that--one of my odd quirks), but just a bit too shimmery for me for a blush. This would, however, make a nice highlighter in my opinion!
Prestige Cosmetics

Fuchsia Freefall Vinylwear Extreme
This is a really pretty gloss that I would call more watermelon pink than fuchsia (note enough blue in it to me to be a fuchsia but that's just my opinion). It is extremely pretty! It is a tad sticky (for those of you that mind that sort of thing--you all know sticky glosses don't bother me in the least) and has a pleasantly sweet fragrance. Again, super pretty if you like pink gloss!
Prestige Cosmetics
Romantic Red lipstick
This lipstick on its own is a really pretty slightly blue-toned red. When you think red lips this is probably the color red that comes to mind. I loved it! It has a semi-matte finish on its own that is extremely pretty and I'd recommend wearing it on its own or with a gloss over it depending on your preference. 
Prestige Cosmetics
Lipiner in 210 Amore
This lipliner complemented the lipstick well, though I think it's a tad more orange toned than blue. It wasn't incredibly soft and I tend to prefer soft lipliners. At the same time, it wasn't difficult to work with so it may just come down to personal preference.
All in all I'm quite pleased with the quality and colors of the Prestige Cosmetics products I tried for this look. Again, the baked blush was too shimmery for me personally, but if you like shimmery blushes this would be a good fit. It reminds me to a degree of one of my Laura Geller blush-n-brighten compacts. 
What did you wear on your face for Valentine's Day?