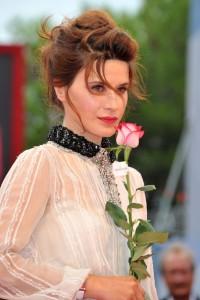 True Blood's Salome, Valentina Cervi is in her home town of Rome and will be one of the judges at the Seventh Edition of the Rome Film Fest that takes place from November 9 – 17, 2012.  
The main jury will hand out the festival's most prestigious awards, including the Marcus Aurelius honors for Best Film, Best Director, Best Actor, Best Actress, and four others.
The festival's seven-person international jury to be headed by director and screenwriter Jeff Nichols. Along with Valentina Cervi, on the jury will be Russian-Kazakh director Timur Bekmambetov; Edgardo Cozarinsky, an Argentinean writer and director of Ukrainian origin; Australian director P.J. Hogan; film critic and Edinburgh International Film Festival director Chris Fujiwara; and Iranian actress Leila Hatami, the daughter of famed director Ali Hatami.
With the announcement of the full international jury, the only official information lacking to round out the festival's program is the identity of the final two competition films. Rome artistic director Marco Mueller told The Hollywood Reporter that the titles are being withheld until the last minute in order to avoid problems from national censors in the home countries of the productions.
source: hollywoodreporter.com