Blooms at Eros Hotel Nehru Place is hosting a Vaisakh (Baisakh) festival till the 23rd of April. With food from 4 different states- Bengal, Punjab, Tamil Nadu and Kerala, they're giving a wide array of flavours to treat your taste buds with, and dishes that you don't usually get all under one roof.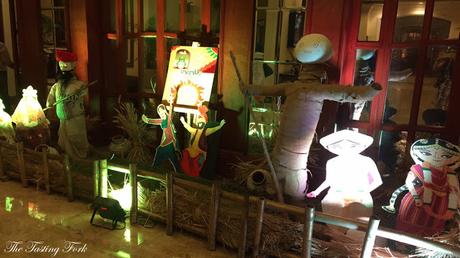 The set up of the restaurant, the décor, ambience, the music, the entire feel- everything has been designed keeping the theme in mind. There are 4 counters for each state in the outdoor area, and seating that takes you back to the village life. Charpai with tables, waiters dressed up blended so well in the theme,  but most importantly the menu!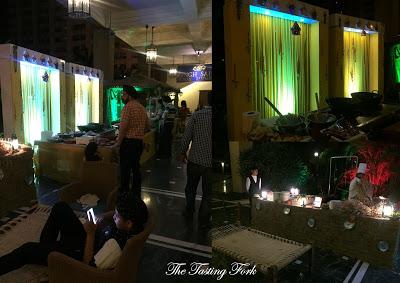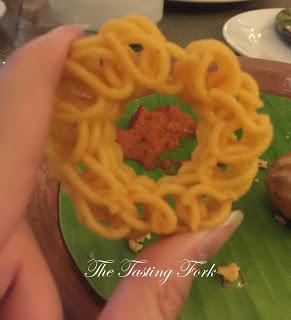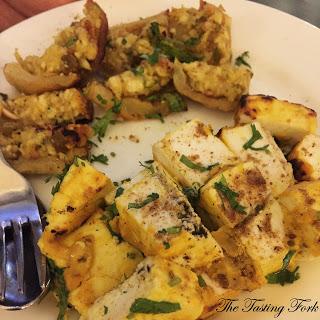 Started the meal with the first counter- Punjab. I was a vegetarian that day due to the navratras so can only say how the vegetarian food was.
Paneer Tikka
and
Aloo Bharwan
were the first appetizers I tried. The aloo was superb, but the paneer could have been softer. Moved to the Bengal counter- the most exciting one and the one I was the most unacquainted with. The
Jhal Muri
and
Puchka
was so so different from the 'gol gappe' and 'chaat' we're well-versed with in Delhi. Sour, with a kick, without any pinch of sweetness. So different! Tried some cutlets here which were made of banana peel, and I was totally blown away by them! Extremely impressive stuff! The Kerala counter was however my favorite. Fluffy
appams with stew
,
Paniyaram
- a deep-fried South Indian dish made of idli batter mixed with cashews and raisins. Bite-sized things that you dip into the tomato chutney and pop into your mouth. Superb! Envied people enjoying
Meen Polichhattu
, Fish Curry, Roasted Chicken and all the non-vegetarian goodness.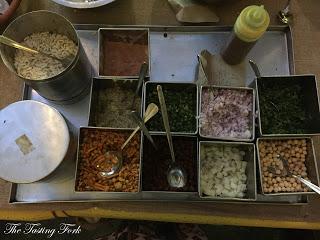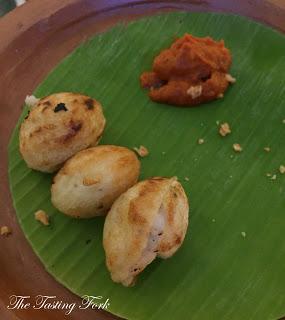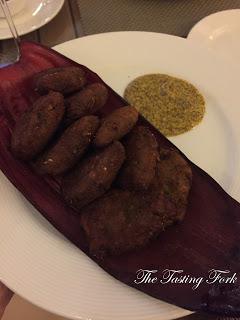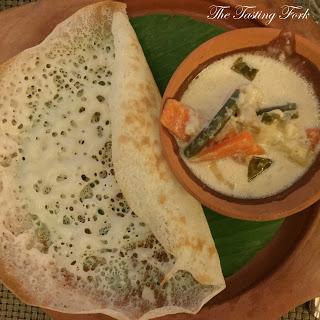 Food from the 4 states was incorporated in the main course menu too. And that was surprisingly even more delicious than the starters. Coming from a person who was only eating vegetarian, it has to be really good! Punjabi Aloo Paneer Kofta was something everybody would fall in love with. Paneer and aloo wrapped in a kofta, tossed in a rich thick tomato cream gravy. Bhaja (from Bengal) was potato, eggplant and kerala). Crisp, delicious, not spicy but full of flavor. Puliyodharai (from Kerala and tamil Nadu) was tamarind rice. I can go on and on about the other dishes too, but you get the point.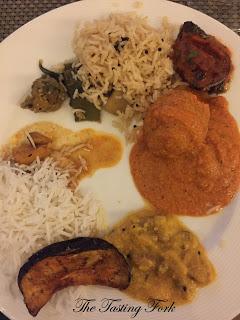 Desserts saw everything from Mishti Doi and Rosogolla to represent Bengal, Moong Dal Halwa and Dodda Barfi to represent Punjab, and Payasam and Rava Kesari to represent Tamil Nadu and Kerala.
The food in this festival is really delicious! The restaurant makes sure they have everything going right for them in whatever dishes they prepare. Must must try the Baisakh festival buffet here- there's something for 
everyone.
Address: 19/20, Samartha Vaibhav, Andheri Lokhandwala, Andheri West, Mumbai
Timings: 11AM to 11PM
Disclaimer: The review was done on an invitation from the establishment. All views expressed belong entirely to me and are completely unbiased in nature. However, readers may exercise their own discretion.
Connect with me on:
Twitter: 

@sahibagursahane
Instagram: 

@thetastingfork
Facebook: 

www.facebook.com/thetastingfork
Snapchat:
thetastingfork