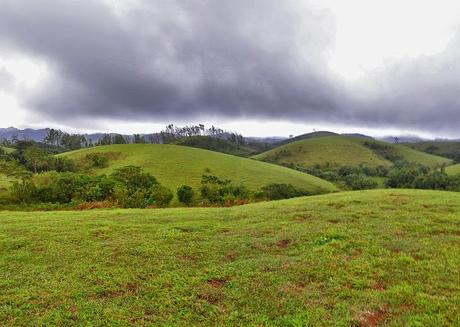 Vagamon is one of the beautiful hill stations of Kerala. Vagamon
is also considered as one of the best paragliding sites in Asia and for three consecutive years beginning from 2006 have been the international paragliding festive hub of the world and international paragliding festivals are being held at here. 
Not only this, there are also lots of attractions and possibilities for tour excitement in Vagamon. Today it has become the common ground for sports, entertainment, picnics, excursion and leisure escape well hunted by world tourist.
The landscape, climatic condition and prevailing weather are quite pleasant and appealing for leisure enjoyment. The grassy launch pads of the valley and cross country ridge soaring also give a great access for enjoyments. 
For paragliding and other adventure sport activities, the season from September to January offers great flying conditions.
Vagamon has been identified as the best eco-tourist destination in India by the tourism department of Kerala and the National Geographic Traveler has also listed it on their list of the 50 most beautiful places to visit in India. Like Munnar, serene, tranquility and pristine environment is the image of the place. 
Tourist attractions in Vagamon are countless in number. Here are few outstanding sites possible from Vagamon which is a must to be visited as they are worth visiting and are quite impressive like none other sites.
The places of attraction like Elaveezha Poonchira, Pattumalai Church, Kuttikanam Palaces, Kurisumala Ashram, and Murinjupuzha waterfalls, Idukki Arch Dam, Peermade, Mangala Devi Temple and Parumthupara suicide Point are some of the frequently visited striking tourist places possible from this site. These mention sites have one unique attraction or other which goes to the interest of tourist. 
Being a quaint hill town located on the border of Kottayam and Idukki district of Kerala, the border place's attractions are easily accessible from it on both sites. Kottayam and Idukki is also well renowned tourist sought after spots of Kerala, you can enjoy the attractions of both the sites.
 A drive to this hill town is a wonderful experience with scenic winding roads, Fresh Mountain air with the sound of gurgling streams and chirping birds gives a stimulating pleasure and excitement of lingering mind, body and soul with nature. It simply drenches your stimuli and gives you the real pleasure and excitement of hill getaway. The green capped mountains, rolling plains, beds of greenery hillocks provides panoramic views of true nature world. 
Visiting place like Vagamon is like a tour in the Eden garden and its scenery, excitement and pleasure of environment exactly resemble earth's heaven and such can be truly called paradise found on earth. Take a tour and slip in the paradise of south India.